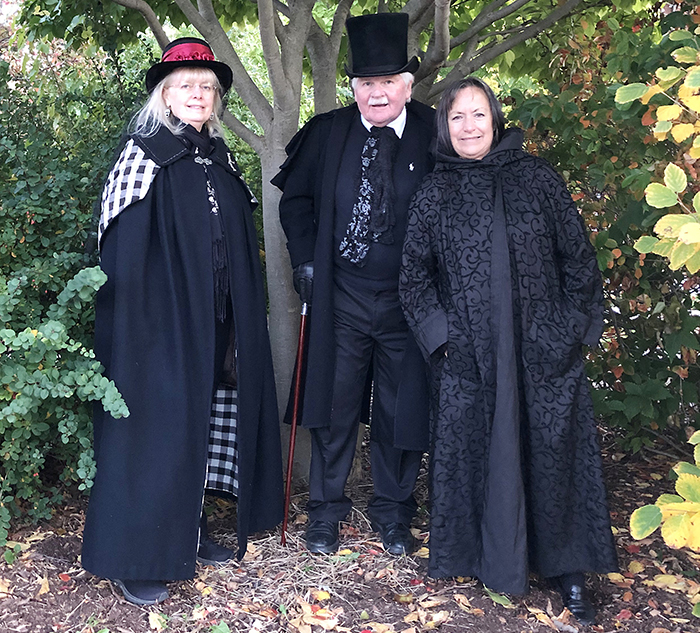 It's a nice night for a spooky and historic walk, isn't it?
At least that's the case July 15, as local historical buffs put on a trio of Downtown Chatham Ghost Walks.
Sheila Gibbs, one of the organizers and a member of the Kent Historical Society, said the walks start from the centennial clock in front of the Downtown Chatham Centre.
There are three walks that evening, leaving at 7:30 p.m., 8 p.m. and 8:30 p.m. respectively. Gibbs said each has its own tour guide and will take between 90 minutes and two hours.
"We'll take you to explore the downtown core," Gibbs said. "It involves hearing ghost stories and a little bit of history mixed in.
"You might come for the ghosts and leave with the history."
Gibbs, along with local historians Jim and Lisa Gilbert, will lead the tours.
They'll expose walkers to "some great new bits of information we've gleaned from what has happened at the Downtown Chatham Centre from a couple of people who have worked there for years," Gibbs said.
Also on the tour is the Chatham Capitol Theatre.
"There is so much connected to that. You could almost spend a half hour talking about what has gone on there," she said. "We have a new personal experience from there, from a retired OPP officer. It's a down-to-earth, very factual, very reasonable sort of person who experienced something very extraordinary years ago there when he was a teenager."
She said such stories add more "veracity" to the tours.
"It's just one isolated incident. There are repeated things that have occurred to a variety of people over the years, especially during renovation time," Gibbs explained. "Any kind of place that has major renovations happening, that seems to really stir up paranormal activity."
Gibbs said the tours won't linger in one spot for too long, to keep up the pace of the Ghost Walk.
This is the second night of three such Ghost Walk events planned for this summer. The first took place in mid-June, while the next is scheduled for Aug. 12. That one will take place on Victoria Avenue in Chatham.
Gibbs said the walks are as popular as ever.
"We've been doing this for over 20 years. After people hear a story, they want to talk about it. It doesn't have to be a paranormal thing," she said.
However, the interest is heightened for such tales.
"There is a perennial interest in ghosts and ghost stories," Gibbs said. "We just don't know what happens after we die. We're all a little curious about that."
Gibbs said to expect another slate of fall Ghost Walks as well.
"We'll probably do something in the fall in October, closer to Halloween. But nothing is finalized yet," she said.
Tickets for the Ghost Walks can be obtained by visiting www.eventbrite.com. Cost is $15 for an adult and $10 for children aged 12 and under (plus Eventbrite fees).
The walks take place rain or shine.
Gibbs said group sizes are limited.