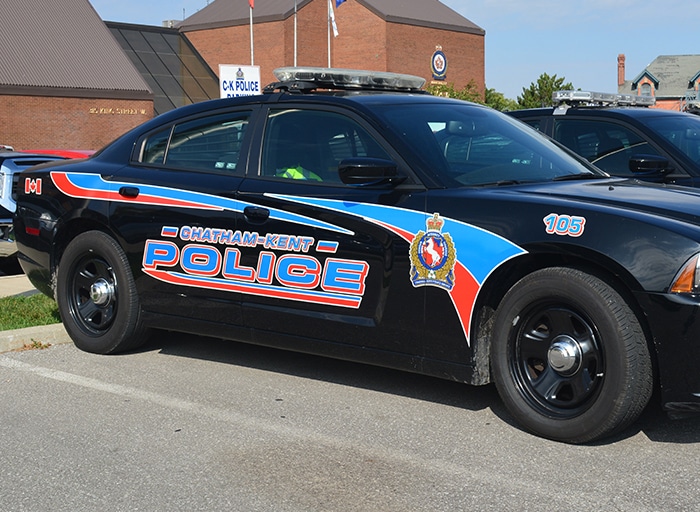 Assault and resisting arrest
On Wednesday morning, Chatham-Kent police responded to a disturbance on King Street in Chatham.
Through investigation, police learned that a woman attended an address on King Street and threw a cup of coffee at the other woman.
Police arrived on scene and when placing the woman under arrest, she resisted.
The 39-year-old Chatham woman was arrested and charged with assault and resist peace officer.
Rogers network woes
Aside from widespread debit and ATM outages due to an interruption in the Rogers Communications network, Chatham-Kent Police say it could cause issues for people attempting to call 911.
If you experience issues, try again. Police suggest trying to call from a landline or a cell using a different provider.
You can't go there
Early Thursday morning, police received a phone call from a brace-monitoring service claiming a Chatham man was outside of his residence.
This was a breach of his conditional sentence order.
Police attended his location and placed the man under arrest. He was transported to the Chatham Police Station where he was held pending a bail hearing.
Warrant arrests
In November, a man was released by the court with a condition to provide a sample of DNA.
When the man failed to attend on the date scheduled, a warrant was issued for his arrest.
On Thursday just after 11 a.m. police attended Victoria Avenue in Chatham and located the man wanted on this outstanding warrant.
A 36- year-old Chatham-Kent man was transported to police headquarters. He was later released.
—
On Wednesday afternoon during a traffic stop on Elgin Street in Wallaceburg, police located a 34-year-old Wallaceburg man who had a warrant for failing to attend court. He was arrested for the warrant.
—
That evening, police responded to a person well-being complaint on Jeffery Street in Chatham.
Police located a 24-year-old man who had a warrant for his arrest for domestic related offences.
Police say he also had a warrant for his arrest in Hamilton.
The man was arrested for all of the warrants and turned over to the Hamilton Police Service on their arrival.
Comments
comments