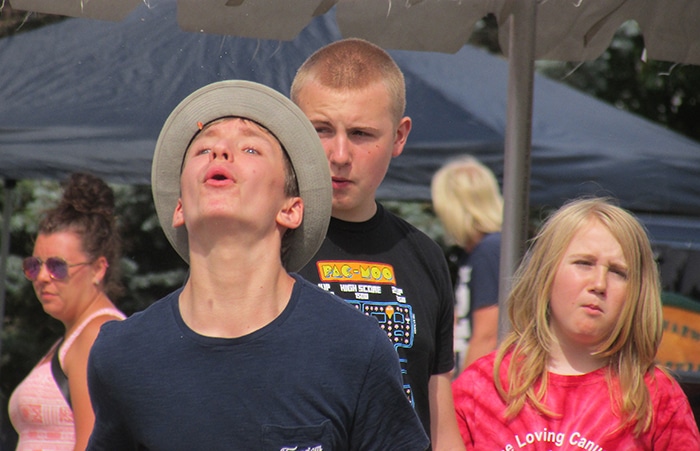 Blenheim again hosting Cherry Fest July 14-16
After a two-year pandemic-imposed hiatus, fans of all things cherry related will be happy to spit pits, eat slices of pie and have fun in mid-July.
Blenheim's Cherry Fest returns July 14-16 in the heart of the community.
Event chair J.P. Huggins is looking forward to seeing the festival return.
"Expect an amazing Cherry Fest. We're going to pack that downtown with rides – as much as we can legally squeeze in there," he said of the World's Finest Shows midway rides that will thrill the young and young at heart.
As usual, Cherry Fest will feature the rides, the pit spitting competition, sales from downtown merchants, entertainment, a pie eating contest, cherry-oke, children's entertainers and some incredible food choices.
"There will be cherry pulled pork with fresh cherry waffle boats, cherry glazed ribs, and more," Huggins said. "We'll have food galore."
Cherry pies, always a hit at Cherry Fest, are back. The Blenheim Youth Centre teamed up with Parks Blueberries to bake pies this year, while local business A Taste of Home is also baking pies.
Delhaven Orchards will be trucking in fresh cherries each day as well, Huggins said.
"It's going to just be packed," he said. "It doesn't matter if you are two or 92, there's something for you there."
While he's ecstatic Cherry Fest is back after a two-year absence due to COVID-19, Huggins admits it has been a great deal of work in a shorter period of time. He normally begins working on Cherry Fest the November prior.
"It's done in manageable bites and stuff," he said. "This year (because of pandemic regulations) we didn't get going until March to plan and book things."
With Cherry Fest set to open on the Thursday, July 14, Huggins said the downtown is closed off late Tuesday afternoon as World's Finest Shows begins setting up their midway rides that night.
All-day passes for the rides are just $25, Huggins said.
For more details, search blenheimcherryfest on Facebook.
Comments
comments