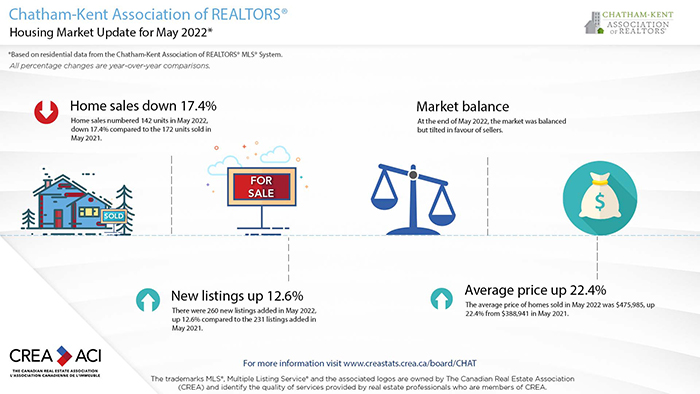 It appears the real estate slowdown is creeping into Chatham-Kent.
Numbers from the Chatham-Kent Association of Realtors (CKAR) show that last month, May, saw sales down more than 17 per cent from the same month in 2021.
However, home prices have yet to hit a wall. CKAR figures indicate the price of the homes that sold in May averaged nearly $496,000, up more than 22 per cent from May of 2021.
A total of 142 units changed hands last month. But to put it into perspective, the month is still above the five- and 10-year averages for past Mays.
So far in 2022, up to the end of May that is, 652 residences have changed hands, which is Down more than eight per cent from the first five months of 2021.
Again, despite the decrease in number of homes sold, the average price over the first five months remains high, at almost $499,000, up in excess of 25 per cent from the same time a year ago.
Amber Pinsonneault, president of the (CKAR) and the broker of record for Royal LePage Peifer Realty,
"Sales activity was down from the record May last year but still managed to post a typical showing for this time of year. Many other markets in the province are currently trending below average levels for sales activity at the moment," she said in a media release.
In the ever-important new listings category, new homes put on the market in May were up 12.6 per cent from May of last year, as there were 260 homes listed in the month.
That's the largest number of new listings added in the month of May in more than five years.
Pinsonneault said the increased number of homes for sale is a great sight.
"The huge boost in new supply coming onto the market was a welcome sign, although overall available inventories are still trending close to their record lows. If the strength in new listings keeps up as demand moderates in response to the recent interest rate increases, we may see a move back to more balanced market conditions through the second half of 2022," she said.
In terms of the five-year average, May's new listings were up 28.5 per cent from that average, and about 20 per cent over the 10-year average.
Combine that with slower sales and there were 203 units on the market as of the end of May, also up.
That looks great short-term, as it represents an increase of more than 36 per cent from a year ago, but is only up slightly from the five-year average. In terms of the 10-year average, new listings in May were down in excess of 46 per cent.