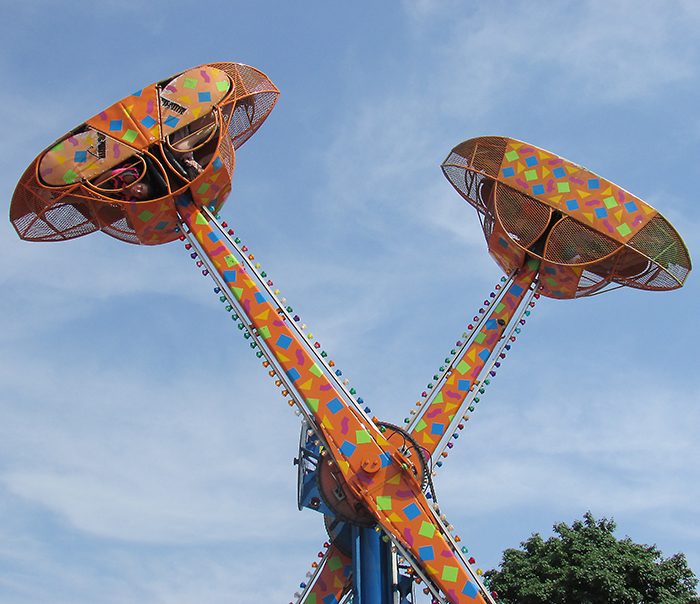 After a two-year hiatus, another popular Chatham summer staple is back this month – the Kinsmen Fair.
The fair, sponsored by Waste Connections Canada, takes place June 23-26 outdoors and indoors at the Memorial Centre this year.
Kinsmen spokesperson Bob Christie said this will be the 15th year the service club runs the fair, after taking it over from the Jaycees, who ran it for 60 years prior.
The Chatham Kinsmen are in their 94th year, and the national Kinsmen organization has been going for more than a century.
"Pretty good for a non-profit group," Christie said.
But is hasn't been easy, especially during the pandemic.
Still, the fair is back and Christie said the organization does it for the people of Chatham-Kent, not for the profit.
"We don't really derive very much money from it. If we break even, we're happy," he said. "We don't want to give up the tradition."
World's Finest Shows returns to the Kinsmen Fair to operate the midway, bringing some new rides as well. Christie said people can get a $5 discount off ride passes if they visit the Kinsmen website.
Check their website, chathamkinsmen.ca, for details.
There is also a petting zoo with more than 20 animals on hand.
Louie the Clown returns for face painting for the kids.
An animal balloon artist will also be on hand to entertain and create for the little ones.
That's all taking place outdoors. Inside the arena this year will be a host of vendors and crafters, with more than 40 signed up already.
"People can come in and take a look around, and they might see something they haven't seen for a while," Christie said.
The indoor vendors will be set up the Saturday and Sunday of the fair.
Visit the website and print off an Elmer the Safety Elephant page. Your children can colour them and enter the Kinsmen colouring contest. There are three $25 prizes up for grabs.
As well, there will be no gate fees to the fair. Nor will there be a fence. Christie said it's open for everyone.
The success of the fair often hinges on one thing, and it is out of everyone's hands.
"Hopefully Old Man Weather doesn't do us in," Christie said. "I remember the year we had a heck of a hail storm hit us."
Not only has the fair been on hold since it last ran in 2019, but Kinsmen fundraisers have been thrown for the proverbial loop as well.
"All service clubs are having issues due to the pandemic. You couldn't do normal fundraisers," Christie said. "
One fundraising area where the Kinsmen have felt the pinch in recent years is the sale of fireworks for Canada Day. Christie said out-of-town competition has hurt their efforts.
"Buy from the Kinsmen and the money sticks around. We put it back into minor sports," he said. "We know a couple of companies who come in here to sell them (fireworks), but they take the money out of town. We have good hearts and we try to put everything back into our community."
To purchase fireworks from the Kinsmen, visit them at Chatham Marine at 725 St. Clair St. in Chatham. They'll be on hand June 24-26, 29 and 30, and July 1 and 2. Check their website, chathamkinsmen.ca, for times.
Comments
comments