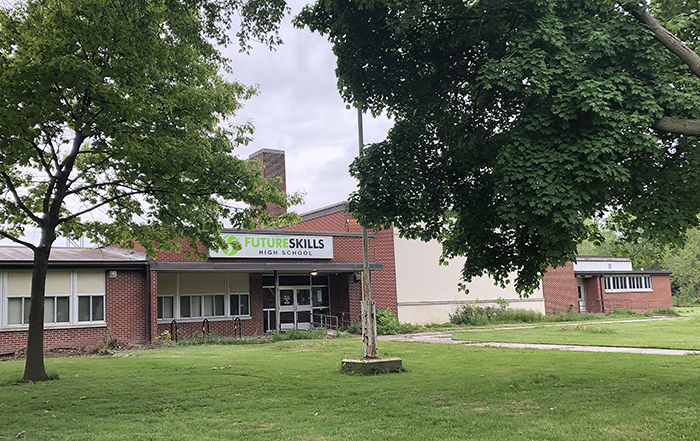 By Pam Wright
Local Journalism Initiative Reporter
Common ground.
That's what members of the Tecumseh Park Neighbourhood Association (TPNA) and municipal officials are trying to find when it comes to operating the new Victoria Park Place emergency homeless shelter.
TPNA spokesman Dan Comiskey said representatives of the group have met with some of Chatham-Kent's top officials to discuss concerns.
And while people in the neighbourhood were angered by the way the municipality handled the issue at the last minute, Comiskey said it's time to move forward.
"Our goal is to make it better – not worse," he said last week, noting the two sides will continue to meet to iron out issues. "We want to find ways to make it work. We want to look at what can be changed and how to best keep the neighbourhood safe."
Working with the people staying at the shelter may be part of the path forward, Comiskey said, as activities like needle pickups and other beautification projects could be in the future.
"We want this to be the best possible circumstances for everyone involved," he added.
According to Comiskey, there's been a recent uptick in crime in the Tecumseh Park area, but he said it can't necessarily be blamed on the shelter, as warmer weather usually causes crime rates to rise across the board.
The move from the former shelter site at the Travelodge in south Chatham was problematic. Originally, council had approved a move to Hope Haven in the downtown, but a last-minute proposal from a group of investors – along with complaints from downtown business owners – led to the empty school on Murray Street being chosen.
It led to an outcry from residents in east side Chatham who felt their rights were trampled on by the municipality.
Employment and social services director Polly Smith said it was touch and go getting all the work done to get everyone moved in on June 1, however, she gave credit to J.P. Contractors for getting the renovations done on time.
"Ron Nydam and his company did go above and beyond what they needed to do," she said.
Smith said things are good at the new shelter.
"We love our new space and it's working out wonderfully," she added.
Smith wants to ensure the public understands the facility is a "temporary emergency shelter," not a forever home.
"This is not a hotel," Smith stressed. "People here are engaged in looking for housing and in other community programming such as community and mental health services."
A housing specialist is on site at Victoria Park Place each day, adding Community Health Service nurse practitioners and Canadian Mental Health Association workers are also available.
Smith said she believes things are off to a positive start and the shelter hopes to continue to have "real conversations" with members of the TPNA so the shelter can operate in a positive fashion.
Municipal officials met with four members of the TPNA over Zoom, including the association's own legal representation.