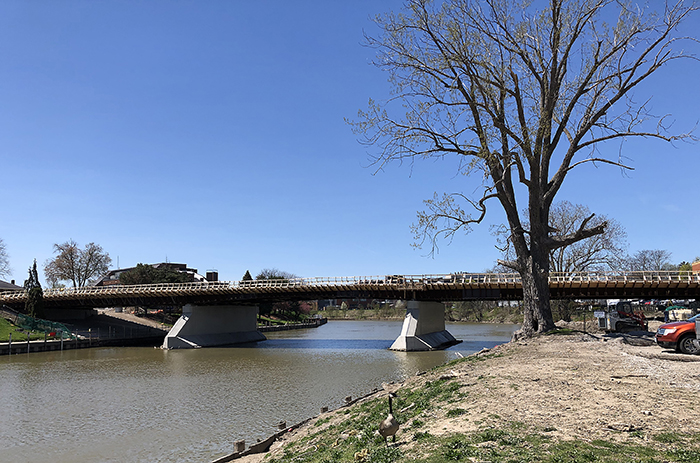 By Pam Wright
Local Journalism Initiative Reporter
A three-week labour strike has rained on Chatham's Third Street Bridge parade.
Slated for completion June 30, the target date for the yearlong project's completion has now been pushed to July 22.
Bridgerama Day 2022 – a special celebration to mark the project's end – has also been postponed.
According to Brendan Falkner, Chatham-Kent's manager for engineering and transportation, the delay was a labour issue "beyond the municipality's control.
"It was one last curve ball in the project," Falkner said, noting the bridge revamp has faced a number of challenges that created delays, including a flood on the Thames River.
"There are a lot of moving parts involved in this," Falkner said.
The provincewide strike by the International Union of Operating Engineers involved the handlers of concrete pump trucks – a necessary component of pouring the concrete for the bridge's deck.
Falkner said Toronto Zenith, the contractor for the bridge, continued to work on other components of the $14-million bridge renovation but were limited by the inability to pour concrete.
However, Falkner said Toronto Zenith prioritized the Chatham pour and started it the day after the strike ended.
Falkner said the strike affected both private and public properties equally, amounting to delays right across Ontario.
Falkner apologized for the delay and thanked local residents for their patience and co-operation throughout the overhaul of the bridge.
"This rehabilitation of the Third Street Bridge will result in an updated structure that will serve as a safe and functional asset to the community for many years," Falkner said.