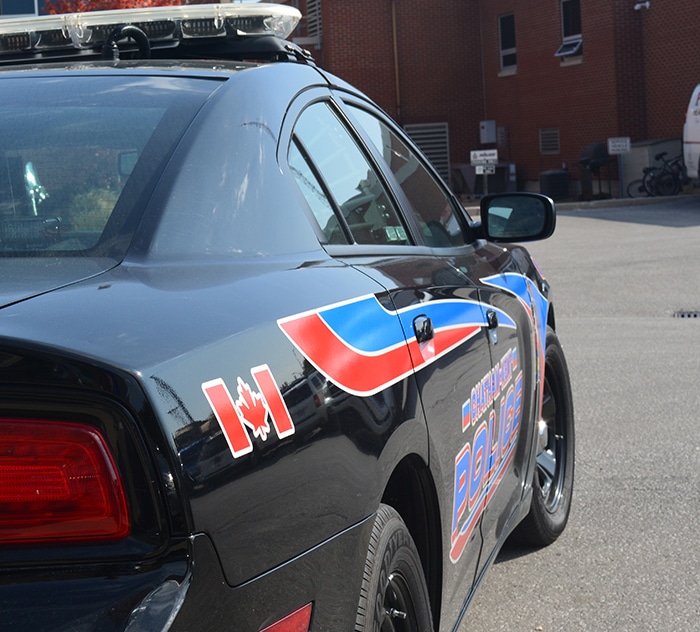 Officer assaulted
A Chatham man faces charges after hitting an officer Wednesday night in Chatham.
Police say officers received a disturbance complaint on Wellington Street East in Chatham about 6:30 p.m.
Upon arrival, police learned the man was intoxicated and unable to care for himself.
As police attempted to assist the man, he struck the officer.
A 56-year-old Chatham man was arrested for being intoxicated in a public place and assaulting a police officer.
Mischief and weapons charges
A tire knifing has led to charges against a Chatham youth.
Police say late Wednesday afternoon, a youth was not welcome at a King Street residence in Chatham.
At that time, the youth, who was told to leave, pulled a knife and punctured the tires of a trailer.
A 15-year-old Chatham youth was located, arrested, and charged with uttering threats, mischief and possessing a weapon for a dangerous purpose.
Theft
An apparent temper tantrum at a Chatham business Wednesday has led to charges.
Chatham-Kent police say they got the call shortly after 5 p.m. to the disturbance inside a Grand Avenue West business.
Police say a man was inside a business throwing items around. The man attempted to leave the store without paying for an item.
A description of the man was provided to the police.
Officers attended the area and located the man a short distance away. Police believed the man to be under the influence and unable to care for himself.
A 31-year-old Chatham man was arrested for theft, transported to police headquarters, and held until he was sober.
Bail violation
In mid April, a man was released by the court on conditions to remain in his residence or on the property of his residence at all times, with specific exceptions.
On Thursday at 1:43 a.m., police say the man attended police headquarters for a matter not qualifying as an exception. He advised the officer and turned himself into the police.
A 27-year-old Chatham man was arrested for failing to comply with a probation order and held for a bail hearing.