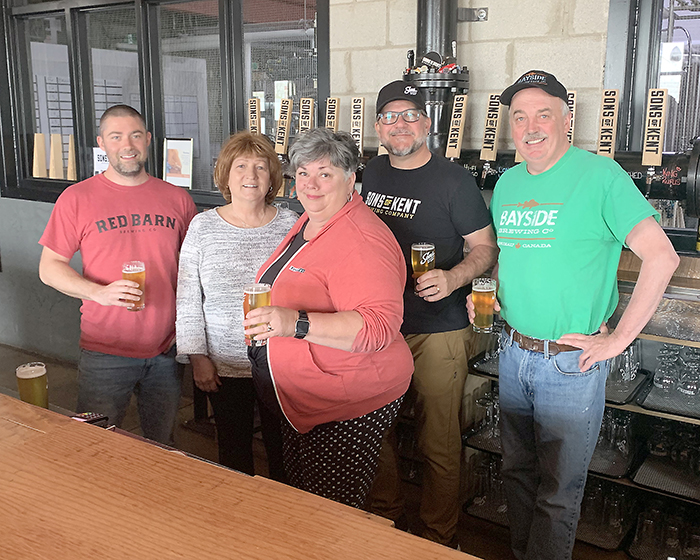 Local breweries hosting BrewFest events
In a display of brewing solidarity, three Chatham-Kent craft breweries have joined forces to offer up some summer fun.
Bayside, Sons of Kent and Red Barn, with the support of TekSavvy, are hosting a trio of BrewFest 2022 summer outdoor parties.
The first one, EauFest, will take place June 18 at Bayside in Erieau; followed by a gathering at Sons of Kent in Chatham July 16, FunkFest; and one at Red Barn north of Blenheim to close the summer on Sept. 3, FarmFest.
The idea is to provide the people of Chatham-Kent some stay-local fun, and raise money for charities.
Red Barn's Denny Vervaet said it's a team effort that builds upon something his brewery started in 2021.
"It kind of stemmed from our grand opening last year. People loved it. The community aspect of it," he said.
Vervaet said none of the breweries look at each other as competition, per se.
"We're in the same industry, but we all have different vibes, a different sense of what we're doing," he said. "We're just trying to promote good, local craft beer."
Cowan said the mutual support for each event packs a solid stay-in-C-K punch.
Bayside overlooks Rondeau Bay, Sons of Kent is located in the heart of Chatham, while Red Barn
"Being inclusive just brings more events and brings more people around. It gives people more reasons to stay local," she said.
The breweries will each be raising money for a charity of their choice with the events. With Bayside first out of the gate, the owners at that Erieau Brewery have already picked a charity of choice, the Erieau Community Association (ECA). In fact, it will be heavily involved in the June 18 event.
"The ECA is going to run a barbecue to raise additional money for them. We're going to buy food for them at cost and then they're going to do the fundraising. It will relieve our kitchen a little bit," Nancy Cowan, one of four owners of the brewery said.
Co-owner Frank Thompson said they have booked multiple bands to perform that day.
Food trucks will supply tasty morsels at the Sons of Kent and Red Barn events, where live music will continue.
Hunter said thanks to TekSavvy, there is no cover charge to any of the BrewFest events.
"It's also a free concert. With the support of TekSavvy, we were able to do that," he said.
All three events will see the sale of beverages from all three of the breweries.
Sons of Kent's Doug Hunter said each brewery has plans to roll out a special beer for the summer events. Bayside's offering will also celebrate the business's 10th anniversary in operation.
The lads of Sons of Kent are celebrating their fifth year this summer. Red Barn, the youngest of the three breweries, opened in the middle of the pandemic two years ago.
Hunter said there will be people at the door on hand to accept donations for the charities involved.
The breweries are marking BrewFest with the sale of merchandise as well.
"We'll have shirts and glassware available for pre-sale via Shopify. Details will be released soon," Hunter said.
Dava Robichaud, TekSavvy's events co-ordinator, said getting involved just made good sense for the local company.
"TekSavvy is a huge community supporter, and the C-K BrewFest ticks lots of boxes for us – supporting local charities, the community of C-K, as well as supporting other grass roots business owners of C-K," she said.
Vervaet said a grant from the municipality is also assisting in fueling the events.
"There was a grant aspect from the municipality. That's a grant we're sharing between the three of us to help put on these community events as well."
Vervaet anticipates the events will be well attended.
"With TekSavvy, we're celebrating community, and that's what it's all about," he said. "We're collaborating together for local charities, local businesses and ourselves as the different breweries in the area."
Cowan said she hopes the summer marks a return to normalcy. Bayside will host live music every Sunday during the summer months as well.
"We're going back to what we did three years ago," she said, referring to the time before the pandemic.