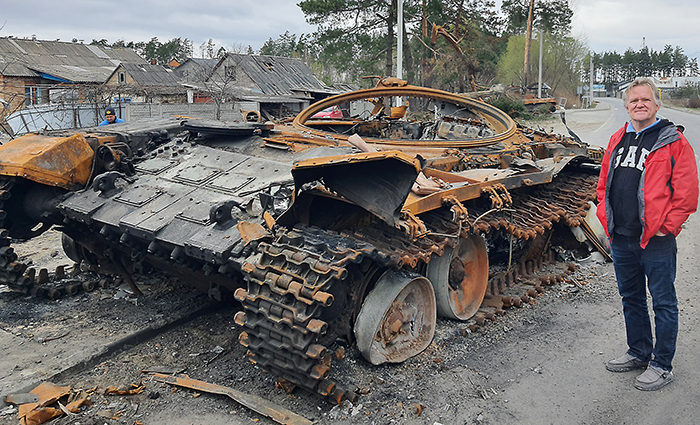 Ed Dickson, fresh off a recent visit to Ukraine, will be the guest speaker of a fundraising event later this month in Chatham.
Dickson, the overseas director for Loads of Love Humanitarian Aid and Mission Society, was in the war-torn country for two weeks.
He'll discuss what he saw at the hymn sing fundraiser set for May 19 at Chatham Grace Christian Reformed Church.
The Chatham Voice spoke to Dickson mere days after his return from Ukraine, a county he's called home for more than two decades.
"It was just a wild trip for two weeks. We were all over Ukraine," he said. "As you can imagine, I'm still kind of processing everything. The devastation and destruction…we have a home just outside Kyiv. The grocery store we shopped at is gone. The gas station where we used to get gas too. There were 15 tanks destroyed within one kilometre of our house."
Yet somehow, Dickson said, his home is so far unscathed.
"We got to our house and not even one window was cracked. It just happened to be in a little area that wasn't hit," he said.
However, so many parts of that country, especially to the south and east, have not fared near as well.
"Those areas are like it is a different planet," he said.
One thing that grabbed Dickson's attention is the mindset of the Ukrainian people. He said they have basically adapted to being in the constant shadow of war.
"People adapt to the environment they are in. For example, when the bomb sirens go off, people aren't even going into the bomb shelters anymore. They've become so used to it, even though they know a missile is coming to their city," he said.
He recalled one instance when they were on the road, a missile slammed down less than a kilometre away, sending smoke and debris high into the sky.
"I saw the cloud of smoke come up from where it hit. The guys that were driving us were almost like it wasn't a big deal anymore," Dickson said. "If you were standing beside a large stadium and the entire roof collapsed, that's what it sounded like."
He said there is no shortage of food in stores, but not everyone can afford to buy it these days as about 40 per cent of the people he knows in the country have lost their jobs.
"Most stores are full of food and people are just carrying on like nothing has happened. It's almost surreal," Dickson said.
For those who are struggling, organizations such as Loads of Love are trying to help. Dickson said in the last two months, they have delivered food to more than 30,000 families, and a container packed with a million servings of dry soup, is on the way.
"There's no shortage of need. A lot of people just live day to day. A lot of them don't have anything after they've lost their jobs. They're coming to local churches and other places to try to find food," he said.
Many of those churches have seen pews replaced by beds, as they've become havens for people fleeing the bombings. As a result, Loads of Love is shipping mattresses and bedding to help meet the demand.
Dickson said Loads of Love is able to send the proceeds of all its donations over to Ukraine, as the money made with the second-hand store covers the administrative and operating costs of the organization.
The humanitarian aid from Canada is not going unnoticed.
"When people talk about Canada, they talk about this great country that helps other countries and people when they are in trouble," he said.
The May 19 hymn sing event, sponsored by Loads of Love, begins at 7 p.m. Doors open at the church, located at 255 Tweedsmuir Ave., at 6:30 p.m.
Comments
comments