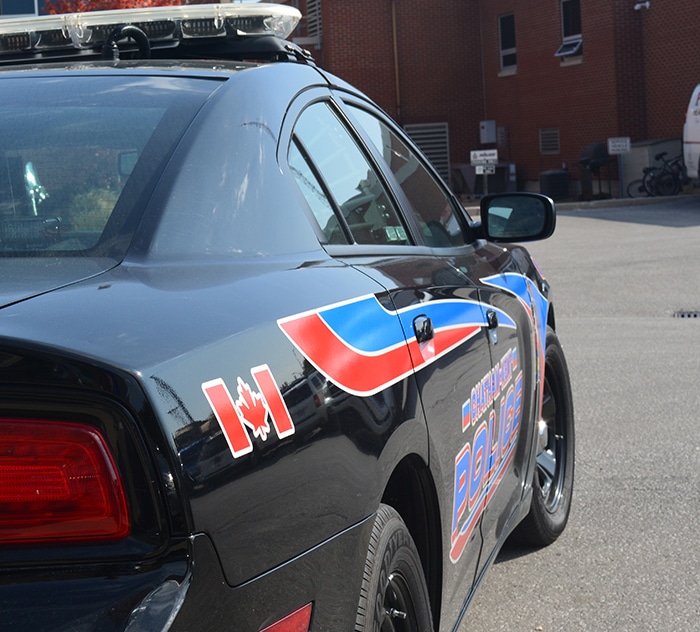 Muddy failed theft attempts lead to charges
After sliding off the road in his own vehicle, Chatham-Kent police say someone tried to steal a couple of others.
They ended up stuck in a ditch.
That's when police got the call to Longwoods Road in Camden Township.
Police pieced the evening together from there. Through investigation it was learned the man had lost control of his own vehicle, slid off the road and into a field.
He went to a local restaurant to make arrangements to be picked up by a relative.
However, instead of doing so, police say he attempted to steal two vehicles from a nearby business, but the business entrances were blocked by locked gates.
The man attempted to drive through a ditch but became stuck in the mud in both instances, police say.
The man broke into a building on the property looking for keys to a third vehicle.  Unable to find keys, the man began to walk westbound on Longwoods Road, where he was picked up by a passerby and transported into Chatham.
Video surveillance aided policing in identifying the man.
A 22-year-old Windsor man was located on Queen Street in Chatham by police. He was arrested and charged with break and enter, two counts of theft of motor vehicle and two counts of possession of stolen property.
Assault x3, forcible confinement
Last night around 7:30 p.m., Chatham-Kent police responded to a domestic disturbance on Athlone Road in Tilbury.
Through investigation police learned the man and his ex-girlfriend engaged in a verbal argument.
The argument escalated into a physical altercation when the man grabbed the woman and stood in her way, not allowing her to leave the apartment.
A 33-year-old Tilbury man is charged with forcible confinement and three counts of assault.
Man allegedly threatens his own parents with a knife
On Monday, shortly after 7:30 p.m., Chatham-Kent police responded to a residence in the north end of Chatham for a disturbance.
Police learned the man engaged in a verbal argument with his parents. The argument escalated when the man threatened them with a knife, police say. The man left the residence and was located by police a short distance away.
A 40-year-old Chatham man was charged with assault with a weapon, uttering treats, possession of a weapon for a dangerous purpose and disobey court order. He was transported to police headquarters pending a bail hearing.