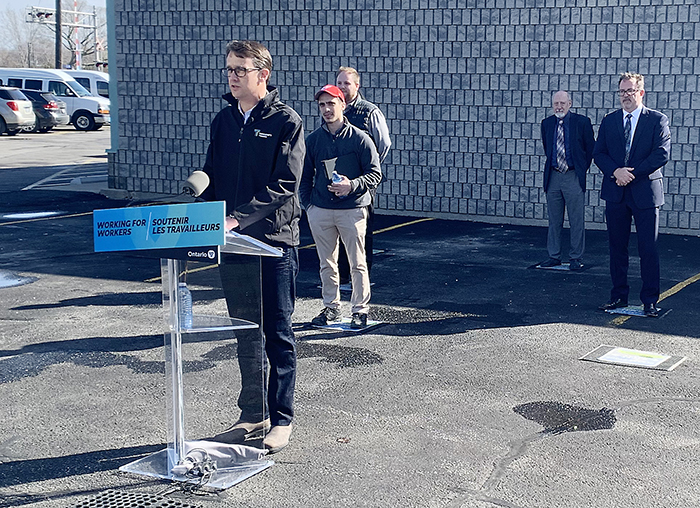 The provincial government has channelled $215,000 to help young Chatham-Kent residents earn while they learn.
The funds, handed down in partnership with Family Services Kent and the Prosperity Round Table, will aid 75 young people in getting hands-on training in the construction trades.
The project will offer a three-week introductory training course in hand and power tool use, safety, and woodworking design.
This program is open to young people aged 15 to 29 who live in Chatham-Kent. Participants will receive hands-on training needed for work in carpentry, general contracting and construction, and soft skills such as financial literacy and business communication.
Monte McNaughton, Minister of Labour, Training and Skills Development and MPP for Lambton-Kent-Middlesex, said the program runs through the Prosperity Round Table's Ambition Trailer project.
"This provides opportunities to get first-hand experience in skilled trades," he said. "It's projects like this that will unleash the ambition of young people. There is an opportunity to earn, on average, $32 an hour as a carpenter."
Chatham-Kent Mayor Darrin Canniff credited McNaughton for stepping up to see this made-in-Chatham-Kent concept go from idea to reality.
"Once Monte heard about this program we wanted to implement here in Chatham-Kent, within weeks we were from that stage of talking to actually executing," the mayor said.
McNaughton said the need to encourage people to enter skilled trades is obvious.
"There were over 2,000 job postings in the skilled trades in the last six months in the Chatham-Kent area alone," he said. "By 2025, one in five jobs in Ontario will be in skilled trades. Approximately one third of all trades people in Ontario are 55 and older and rapidly approaching retirement. That means there are thousands of great paycheques waiting for those who are willing to work hard for honest pay."
William Laurie, trades and youth mentor with the Prosperity Round Table, agreed the need is real.
"We all know it's very important to be filling those (skilled trades) jobs. That's one of the conversations we're having with parents," he said. "University is important. College is important. Skilled trades are important."
Canniff said one thing holding Chatham-Kent back from even more growth is a lack of people to fill jobs.
"Every employer I talk to, they say, 'My number one issue is finding people.' Our economy could grow immensely if we can get more people in here," he said. "This program will help get a lot of people into high-paying jobs, as Monte pointed out."
Students will also receive a paid stipend for the training course and a tool belt valued at $150.
This project is funded by Ontario's Skills Development Fund.
Philip Mock, head of the Prosperity Round Table, said this paid training is the gateway to the future for participants.
"Once through training, they get a chance for continuing skill development, working with continuing education partners and local businesses. Through that opportunity they get chances to network, build those relationships and that's where the potential future employment opportunities come in," he said. "This is an introduction to what the trade career could offer. We hope that it's broad, that it's exciting and that it's energizing."
Anyone interested in taking part can contact Mock at pmock@familyservicekent.com or 519-365-4042.