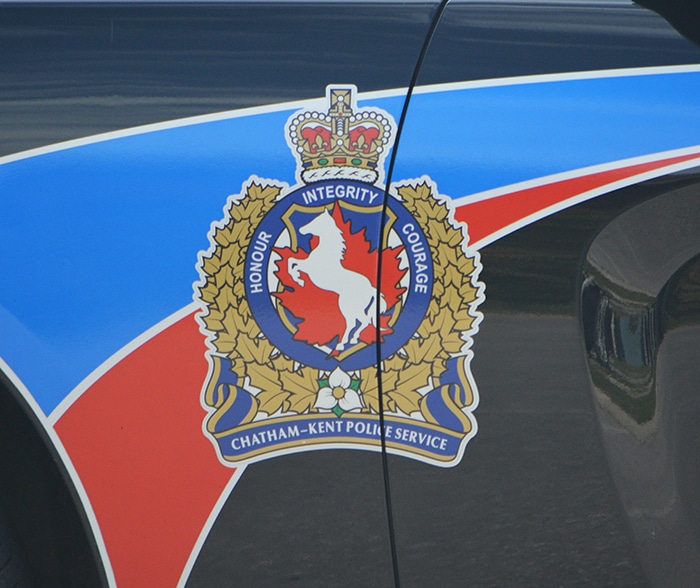 Assault
Yesterday afternoon, Chatham-Kent police were called to a residence on Gray Street in Chatham for a landlord tenant matter.
Upon arrival, police learned a dispute between a tenant and the property manager escalated to a physical altercation.
A 22-year-old Chatham man was arrested and charged with one count of assault.
Assault in a parking lot
On March 27, police began investigating an assault incident that occurred in a parking lot on Queen Street in Tilbury.
Police learned a man had assaulted a woman and left the area.
The woman sustained some injuries.
A warrant was issued for his arrest.
On Sunday at approximately 6:30 p.m., a 37-year-old Windsor man attended the Tilbury substation and turned himself into police.
The man is being charged with one count of assault and one count of assault causing bodily harm.
Man Arrested for stealing a vehicle
On March 27, police responded to a theft of vehicle complaint from a residence on Flemingo Street in Blenheim.
Through investigation the vehicle was located, and the police identified the suspect.
A 59-year-old Blenheim man was arrested for theft and uttering forged documents.
Bail violation
Well, that didn't take long.
Yesterday morning at approximately 11 a.m., police responded to a domestic related incident on Raleigh Street in Chatham.
Through investigation, police learned the man had been released earlier that morning by the court with conditions not to communicate with the woman or attend any place she is known to live or work.
The man was located inside the woman's home.
A 42-year-old Chatham man was arrested for breaching the conditions of his release and three outstanding warrants. He was transported to headquarters and held for a bail hearing.