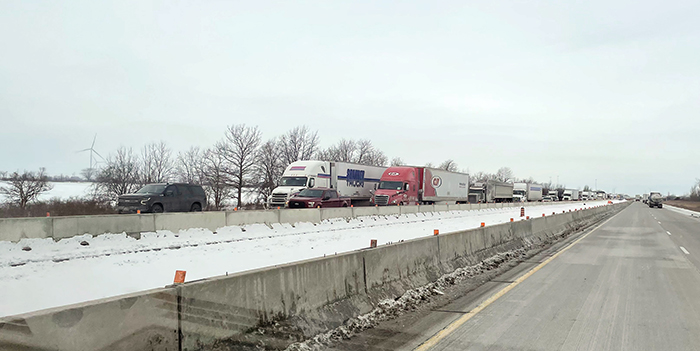 The OPP have released the name of the driver who died in a late January crash on Highway 401 near Chatham, and say the Freedom Convoy played a part in that accident.
Robert Anthony Charron, 43, of Chatham, died in the morning crash on Jan. 27, police say.
The two-vehicle crash occurred around 9:30 a.m. in the eastbound lanes of Hwy. 401 just west of the Bloomfield Road exit.
Two other people were taken to hospital with non-life-threatening injuries.
Police say the truck convoy protest, headed east at that time, was indirectly involved and a contributing factor in the crash.
Previously published reports indicate a small car and a pickup truck that had been towing an ATV were the vehicles involved in the crash.
"The ATV was secured and was not a factor in the crash," OPP spokesman Derek Rogers told The Chatham Voice.
Anyone with information is being urged to contact the Ontario Provincial Police at 1-888-310-1122 or the Chatham-Kent detachment at 519-352-1122. For those wishing to remain anonymous, you can contact Chatham-Kent Crime Stoppers at 1-800-222-8477 or online at www.crime-stoppers.on.ca.