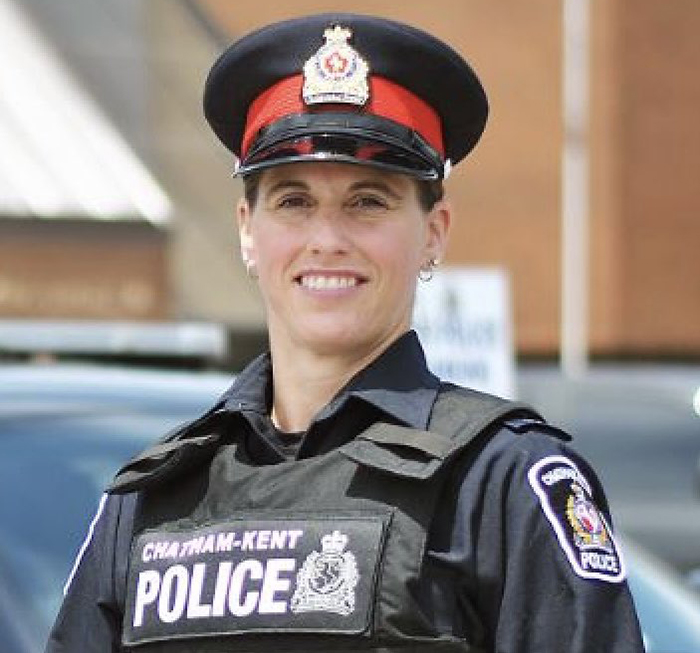 The Chatham-Kent police recently promoted veteran Const. Renee Cowell to a sergeant's position, making her one of just four women on the service at the rank of sergeant or higher.
Three – Cowell, Lynette Hodder, and Cathy Graham – are at the sergeant level, while Kate McArthur is a staff sergeant.
Cowell has been a cop for more than 25 years. Her move to sergeant will take her out of community and media relations and see her oversee a platoon of officers. Her first shift in that role was Feb. 10.
Hodder, the equity, diversity and inclusion co-ordinator with the service, is adding media relations to her portfolio.
Police chief Gary Conn said there is a dearth of female officers with the service, something he hopes one of Hodder's jobs will work to rectify.
"(The position) was created to focus on a specific problem that is currently being faced by many police services across Canada: the lack of female, black, indigenous, and other people of color (BIPOC) recruits applying to the policing profession and specifically the CKPS," Conn said. "Historically as well as currently, females and BIPOC have always been underrepresented in the policing profession, and CKPS is no exception."
Conn said there is no special hiring process to promote women in the service; all such advancements are based on merit.
"Our promotion process is based on an extensive scored procedure which is broken into three phases and takes into account a multitude of variables such as Ontario Police College exam, CKPS departmental exam, educational level, supervisory assessments, operational work experience the candidates personal file and promotional interview," he said.
The police service has 32 female officers out of a compliment of 164, meaning fewer than 20 per cent are women. Conn said that's just below the national average of about 21 per cent.
Cowell's policing career began in 1995 as a fresh-faced constable with the Wallaceburg Police Service. Three years later, the Dresden native joined the newly created CKPS post amalgamation.
Cowell was also the first female member of the Critical Incidence Response Team (CIRT) and in the Forensic Identification Unit.
She said regardless of where her career takes her in terms of rank, her goals remain the same.
"My goal has always been, and will continue to be, to serve and protect our community with honour, integrity and courage.  I enjoy being out in the community, so any position that allows me to work with community partners and mentor our youth through events or recruiting sessions would be a positive step forward in my career," she said.
There is no other place Cowell would rather be than here in Chatham-Kent.
"I love the fact that I grew up here and am now raising my children in a community where I have so many fond memories," she said. "Staying close to my family was a priority for me, in that being a police officer, you need a strong support system and I have that here in Chatham-Kent with family and friends."