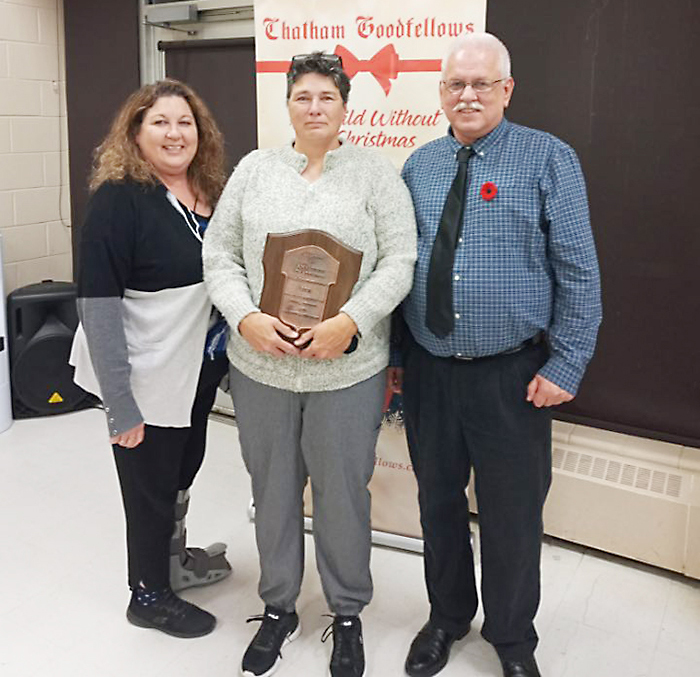 The Chatham Goodfellows are back in fine form, despite COVID-19.
The giving group recently held its annual general meeting, and singled out several people and a group of puck chasers for years of dedicated support.
Amy Finn earned recognition for her long-time commitment to the organization, being named Mrs. Goodfellow.
Tim Haskell, president of the Goodfellows, said Finn has been a fixture with the organization that collects food and toys for families in need for many years.
"She's been helping ever since she was a cop on the beat," Haskell said of the since-retired police officer and current municipal councillor. "Amy's always there to help whenever you need her. She's always there for anything. She's so dependable. If anyone knows Amy, she's all about her community. The world needs more Amys."
The mother of four managed to find the time to volunteer for Big Sisters, Chatham Central Neighbourhood Association, Children's Safety Village, Cop Camp, Cops For Cancer, Shop with a Cop, and the PARC Committee, as well as the Goodfellows over the years.
Rick Maynard earned the President's Award this year.
Sadly, Maynard passed away this past September.
Haskell said Maynard was a treat to work with.
"Rick was a great guy. He started helping the Goodfellows in the 1960s, and he was into so many programs," he said. "It's a huge loss for the community."
Maynard initially got involved with the Goodfellows through the Boy Scouts. They'd take in old toys and repair and repaint them for the Goodfellows, Haskell said.
Maynard eventually moved to Merlin, and took his Goodfellows work with him.
The man also found the time to coach hockey, baseball and bowling.
The Chatham Maroons were named recipients of the president's award this year.
The hockey club has helped Goodfellows for nearly three decades. They've been a staple for the Porch Light Campaign.
"We could always count on them showing up in their hockey jerseys and going door-to-door collecting our funds needed to make sure our campaign was successful every year," Haskell said.
Central with the Maroons are Tom and Helen Heath, who have volunteered with the Maroons for more than 30 years.
On top of the Porch Light Campaign, the Maroons have provided stuffed animals and toys through donations in the arena lobby and the annual Teddy Bear Toss.