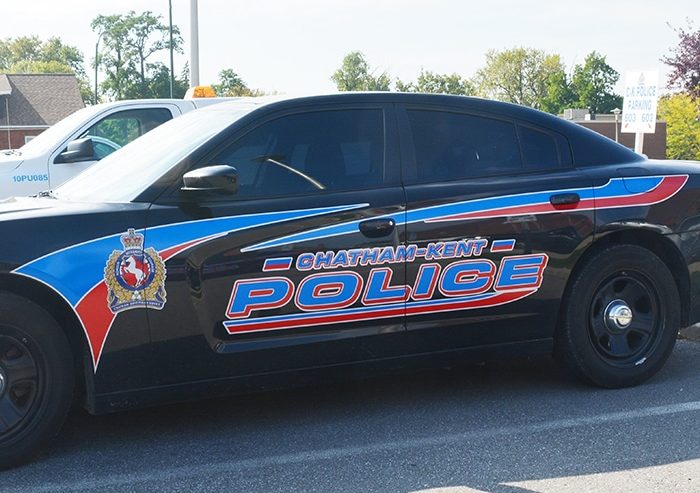 Woman charged for smashing windows
On Tuesday morning, Chatham-Kent police responded to three different businesses on Grand Avenue East in Chatham in regards to broken windows.
With the assistance of video surveillance, the woman responsible was identified.
A 42-year-old Chatham woman is charged with three counts of mischief.
Total damage was estimated at $3,500.
Drug charges
It began as a traffic stop and ended with criminal charges.
On Tuesday night, an officer on general patrol in Wallaceburg initiated a traffic stop on McNaughton Avenue.
Through investigation, the officer observed that the occupants were in possession of suspected fentanyl and methamphetamine.
The driver also falsely identified herself to the officer, police say.
A 30-year-old woman of no fixed address is charged with two counts of drug possession, obstruct police and driving while under suspension.
Her passenger, a 32-year-old Wallaceburg woman, is charged with drug possession.
Woman faces domestic-related charges
Last night, police responded to a domestic disturbance at a residence in Wallaceburg.
Through investigation, police learned that a verbal argument escalated into a physical altercation.
A 28-year-old woman was arrested and charged with two counts of assault.
Stolen vehicle
Sometime between Aug. 16 and Oct. 1, someone stole a white 2015 Kia Forte from a car lot on Richmond Street. The car was unplated and valued at approximately $6,000.
Anyone with information is asked to contact Const. Andrew Craven at andrewc@chatham-kent.ca or 519-436-6600 ext. 87306. Anonymous callers may call Crime Stoppers at 1-800-222-TIPS (8477) and may be eligible for a cash reward.
Dodging animals
Last night around 10 p.m. police responded to a collision involving a deer on Communication Road near Cundle Line. The driver was not injured.
Motorists are reminded to be more vigilant on our roads, especially during dusk and dawn, which is when most collisions with deer occur.
Being aware and taking precautions can reduce collisions, save lives and protect wildlife.
Scan the road ahead from shoulder to shoulder for any movement.
Use high beams at night, when possible, and watch for the glowing eyes of animals.
If an animal is crossing the road, stop as safely as possible, in your lane.
Remember, if one animal crosses the road, others may follow.
Never swerve suddenly. This may cause you to lose control of your vehicle, resulting in a more serious collision.
Comments
comments