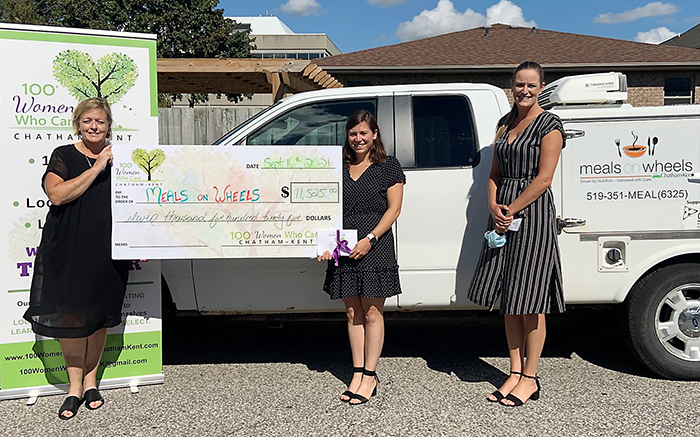 The organization 100 Women Who Care Chatham-Kent on Sept. 16 gave a big boost to Meals on Wheels in the area.
"We are incredibly grateful to the 100 Women Who Care for their generous support of the Chatham-Kent Meals on Wheels program. Keeping seniors well nourished and safe in their homes during the pandemic really highlights the critical role Meals on Wheels plays in the lives of seniors," said Jessica Smith, executive director of St. Andrew's Residence, in a media release. Meals on Wheels operates out of St. Andrew's.
Lynn McGeachy Schultz, 100 Women Who Care CK's nominating member, said "The support of the 100 Women Who Care will ensure that those members of our community can be well cared for and at the same time remain independent. It is a most valuable resource within Chatham Kent. I am very proud to be part of the 100 Women Who Care."
For more information about Meals on Wheels, visit: www.mealsonwheelsck.com.
Since August 2016, 100 Women Who Care CK has donated more than $250,000 across 20 charitable programs in Chatham-Kent.
Visit www.100WomenWhoCareChathamKent.com for more information.