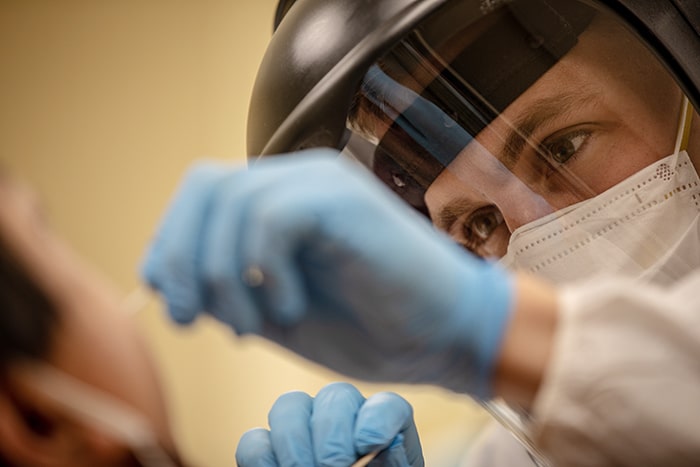 In response to an increase in requests for COVID-19 testing, and due to the high number of positive cases in the community, another testing centre is opening.
The Chatham-Kent Health Alliance (CKHA) in partnership with Chatham-Kent EMS will offer the testing outdoors at CKHA's 47 Emma St. building in Chatham, and will be located on the ramp on the east side of the building.
The walk-in testing clinics will run on Sept. 23 from 10 a.m. to 6 p.m.; Sept. 28 from 10 a.m. to 6 p.m.; and Sept. 30 from 10 a.m. to 6 p.m.
No appointment is necessary to attend these walk-in testing clinics.
Individuals attending the walk-in testing clinics are advised to bring a valid health card, a list of medications and any other information regarding allergies and past medical issues.
Due to increases in volume, wait times will vary.
At this time, to manage traffic flow, whenever possible patients are asked to be dropped off outside the building. Individuals receiving a test at the walk-in clinic are able to have their parking ticket validated and are asked to bring their ticket with them to the clinic. Municipal parking is also available on and around the property.
CKHA's COVID-19 Assessment Centre, located at the 10 Grand Ave. plaza in Chatham, remains open for booked appointments seven days per week from 9 a.m. to 5 p.m. with the last appointment at 4:20 p.m.
CKHA continues to encourage the community to book an appointment at its COVID-19 Assessment Centre online at www.assessmentbooking.ca. For those without access to technology, appointments can also be made by calling 519-436-2556. Patients/families should have their health card ready when booking.