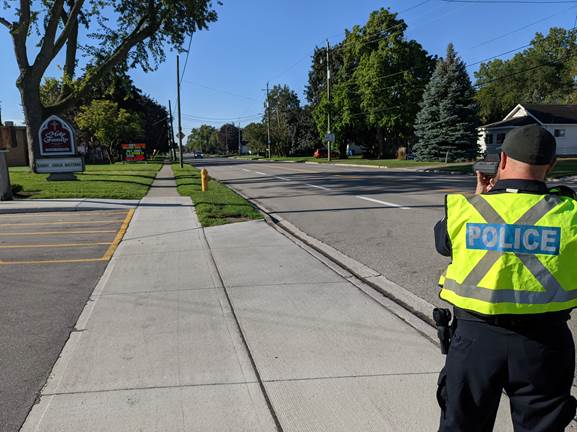 Slow down in school zones
Folks the easiest way to get a speeding ticket these days is to not obey the speed limit through community safety zones near schools.
Chatham-Kent police officers are out in force monitoring these areas this week as our children return to school.
They aren't shy about telling everyone this is their area of focus. Yet on Wednesday, they nailed 24 motorists in Wallaceburg and Chatham for speeding, with most of these inside the community safety zones, where the speed limit drops to 40 km/h.
Police say members of the CKPS Traffic Unit will continue to monitor community safety zones and pedestrian crosswalks in an effort to ensure kids return to school safely this week.
Bent metal
Yesterday morning, police responded to a collision on McNaughton Avenue near James Street in Wallaceburg, where a vehicle collided with the wigwags on the bridge.
The driver was not injured.
Total damage was estimated at $1,500.
A 73-year-old Wallaceburg man was charged with careless driving.
—
Yesterday afternoon, police responded to a collision on Queen Street in Tilbury, where a parked vehicle was struck.
No one was injured.
Total damage was estimated at $8,000.
A 53-year-old Tilbury woman was charged with a Highway Traffic Act offence.
Work van damaged; tools stolen
Sometime between Tuesday at 5:45 p.m. and Wednesday morning at 8:30 a.m., someone forced their way into a white Chevrolet work van parked at a business on Erie Street South.
Once inside the van, the suspect(s) punched the ignition in an attempt to steal it.
Total damage was estimated at $1,500.
Several RIGID hand tools, valued at approximately $1,000, were also stolen from the vehicle.
Anyone with information is asked to contact Const. Grant Renders at grantr@chatham-kent.ca or 519-436-6600 ext. 87351. Anonymous callers may call Crime Stoppers at 1-800-222-TIPS (8477) and may be eligible for a cash reward.