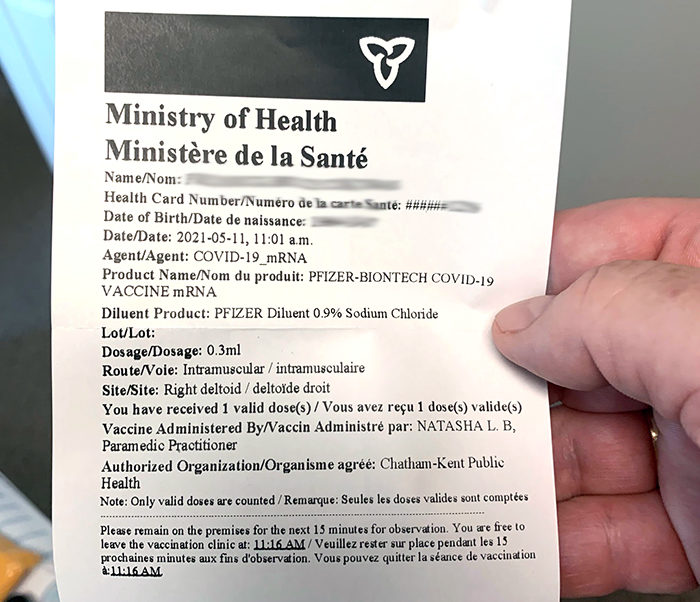 Ontario Premier Doug Ford on Wednesday afternoon said he will soon enact a proof of vaccination system in this province.
Starting Sept. 22, you will need proof of vaccination to get into restaurants and bars (not including patios or takeout); Nightclubs (including outdoor areas of the establishment); meeting and event spaces, such as banquet halls and conference/convention centres; facilities used for sports and fitness activities and personal fitness training, such as gyms, fitness and recreational facilities with the exception of youth recreational sport; sporting events; casinos, bingo halls and gaming establishments; concerts, music festivals, theatres and cinemas; strip clubs; and horse racing venues.
Proof of vaccination refers to being fully vaccinated, which is having two doses of the vaccine and waiting 14 days for full efficacy.
"We know vaccines provide the best protection against COVID-19 and the Delta variant," said Christine Elliott, Deputy Premier and Minister of Health, in a media release. "To protect the health and well-being of Ontarians, our government will offer one more tool to encourage even more Ontarians to receive the vaccine and provide further protection to fully vaccinated Ontarians as they safely enjoy activities with their loved ones and support their local businesses."
Individuals who cannot receive the vaccine due to medical exemptions will be permitted entry with a doctor's note until recognized medical exemptions can be integrated as part of a digital vaccine certificate. Children who are 11 years of age and younger and unable to be vaccinated will also be exempted from these requirements.
Between Sept. 22 and Oct. 12, it is intended that people attending wedding or funeral receptions at meeting or event spaces will be able to provide a negative rapid antigen COVID-19 test from no more than 48 hours before the event as an alternative to proof of vaccination. These rapid antigen tests would have to be privately purchased.
Meanwhile, Chatham-Kent's active COVID-19 caseload rose again Wednesday. We saw 14 new cases reported in the past 24 hours, against seven deemed resolved, bringing our active case number to 58.
Eight C-K residents remain hospitalized with COVID-19.
Comments
comments