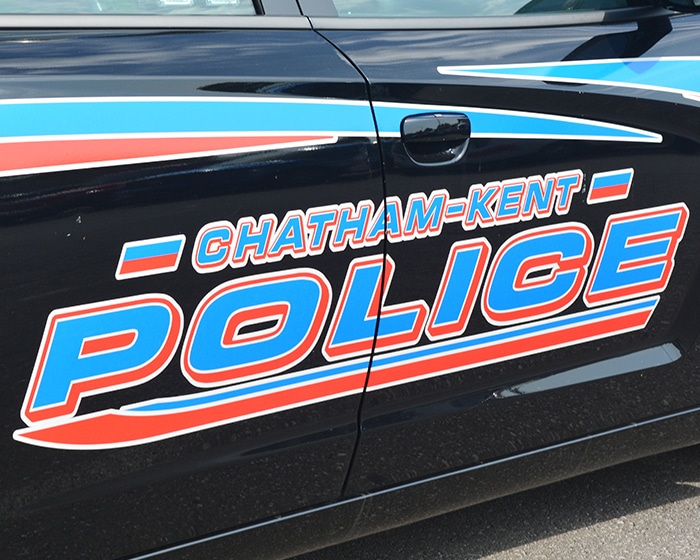 B&E charges
Shortly after 6 p.m. last night, police responded to an alarm at a business on Richmond Street in Chatham.
Upon police arrival, a man fled the scene on a bicycle with two bags. Officers located the man a short distance away, and through investigation, learned that he was wanted by another police service.
The man was arrested and upon being searched was found to be in possession of stolen electronics from the business, along with a screwdriver, black gloves and a flashlight.
A 35-year-old man of no fixed address has been charged with break and enter, being in possession of property obtained by a crime over $5,000 and failing to comply with his release conditions by being in possession of break-in tools.
He has been held in custody pending a bail hearing.
ATV stolen
Sometime late Saturday night or early Sunday morning, someone stole an ATV from a garage on Hiram Street.
Yesterday morning around 10:30 a.m., a man and woman were observed in possession of the stolen ATV at a residence on Dufferin Avenue.
The man falsely identified himself to police, however, officers determined his true identity and learned that he was currently wanted on an outstanding warrant. A 31-year-old Walpole Island man was arrested on the warrant and additionally charged with being in possession of property obtained by a crime under $5,000 and obstruct police.
A 26-year-old Wallaceburg woman was arrested and charged with being in possession of property obtained by a crime under $5,000.
Mischief charges
Last week, police responded to a mischief complaint at the Car and Dog Wash on Grand Avenue East in Chatham. Through investigation, police learned that someone rummaged through the garbage cans, leaving all the contents on the ground before leaving the property.
With the assistance of video surveillance, police identified the man responsible.
Early this morning, police located the man and he was arrested.
A 23-year-old man of no fixed address was charged with mischief and released pending a future court date.
Fraud warning
Yesterday, a local woman reported to police that she had been defrauded of $5,100.
Through investigation, police learned that a man, claiming to be from the bank, called the woman was called several times over the weekend.
Police say the man claimed that there were suspicious transactions on her account.
The man advised that he needed remote access to her computer in order to assist her.
The woman complied with the man's request to assist with the investigation. As directed, the woman bought $5,100 worth of gift cards and provided the information to the man.
The woman eventually caught on to the fraudulent activity and called police.
The Chatham-Kent Police would like to remind citizens the purchase of gift cards is a common scam technique. Scammers are very clever and crafty, so please be very cautious of anyone asking for gift cards, money or Bitcoin. For more information about scams and frauds, please see https://antifraudcentre-centreantifraude.ca/index-eng.htm
Motorcycle stolen in Ridgetown
Sometime last night between 5:30 p.m. and 6:30 p.m., someone stole a 2019 blue and white Suzuki DRS dirt bike from the parking lot of an apartment building on Victoria Avenue in Ridgetown.
The bike was last seen with Ontario license plate 8P1T1.
Anyone with information is asked to contact Const. Lisa Rodger at lisaro@chatham-kent.ca or 519-436-6600 ext. 87264. Anonymous callers may call Crime Stoppers at 1-800-222-TIPS (8477) and may be eligible for a cash reward.
Comments
comments