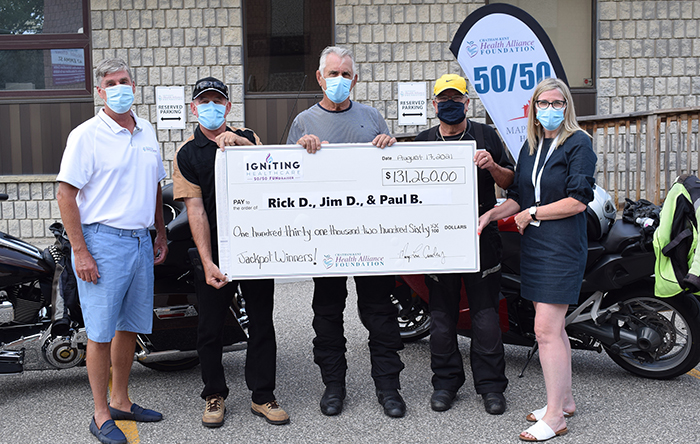 And then there were three.
Three winners, that is. Rick De Marse, Paul Ballay, and James Desjardins – three life-long friends from neighbouring Tecumseh – will be splitting the $131,260 jackpot from the Igniting Healthcare 50/50 draw.
Nearly two weeks after the draw, the trio finally stepped forward to claim their prize, half of the $262,520 total amount raised by the Chatham-Kent Health Alliance Foundation (CKHAF).
This marks the third straight year the campaign has awarded a jackpot in excess of $100,000.
"The Igniting Healthcare 50/50 has become an event that our community waits for all year," Mary Lou Crowley, CKHAF president and CEO said in a media release. "Tickets were purchased in all corners of Chatham-Kent, making this a true community-wide initiative."
The three friends, who are avid motorcycle enthusiasts, have spent years riding throughout Chatham-Kent as what they refer to as their "coast-to-coast" ride from Lake St. Clair to Lake Erie.
On June 15, they were enjoying a ride through Erieau when they stopped for lunch at Bayside Brewing Co. and saw the CKHAF team out front selling tickets for the Igniting Healthcare 50/50 and decided to split on a $50 ticket.
De Marse, whose family is originally from Wallaceburg and Tilbury, said his share of the winnings will allow for his wife to join him in retirement.
Ballay also plans to spoil his wife with a new car, and Desjardins is still thinking about what he plans to do with his portion of the prize money.
Funds raised through this year's 50/50 will support cardiac care with the purchase of six new Electrocardiograph (ECG) machines for CKHA's Chatham and Wallaceburg sites.
"The new state-of-the-art ECG machines will help to provide more accurate diagnosis for cardiac patients." Lori Marshall, CKHA's president and CEO said. "Although there can only be one prize winner, I believe everyone in Chatham-Kent wins when we are able to invest in our community's health care."
The campaign launched during an extended provincial lockdown with in-person ticket sales postpone for a number of weeks, but that didn't stop the community from getting online as nearly 80 per cent of all tickets sold were purchased through the website.
"Once again, our community has really come through," Bob Hockney, vice-chair of CKHAF's board of directors said.
A total of 7,437 tickets, accounting for 880,860 numbers, were sold for this year's Igniting Healthcare 50/50 FUNdraiser.