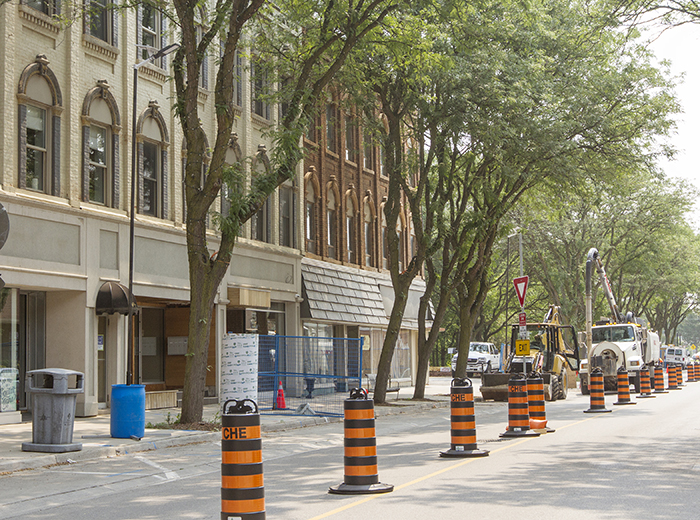 A speed bump in the Roadmap to Reopening
Just as downtown Chatham businesses began opening up to more customers, streetlamp replacement is limiting access.
Timing, they say, is everything. For this project, local businesses and councillors said the timing sucks.
"What's happening is just really terrible timing," Chatham Coun. Michael Bondy said. "They're blocking off King Street to one-way traffic. And this is when businesses are just being allowed to open up."
Dennis Chepeka, manager of public works north for the municipality, admitted the timing isn't great.
"When is a good time? This project has been in the works for at least a year and a half," he said.
Bondy wanted to see the project delayed.
"We can do this anytime. They are lampposts," the councillor said.
Mark Giles, manager of Frank's Music Centre, is livid over the project.
"We're almost thinking about throwing in the towel on the summer, to be honest," he told The Chatham Voice. "For the two weeks prior to this, we were very busy."
Chepeka said the lights that are being replaced are so old that Public Works can't even get replacement parts for them anymore.
"They're ugly. They needed to be done," he said.
Chepeka said the sidewalks will remain open for pedestrians during construction as well.
"Everything is fenced off. There is ample parking at municipal lots on the south side of King Street. We are accommodating any merchants who are expecting deliveries," he said, adding loading zones have been marked. "As we move down the street, we are instituting commercial loading/unloading zones."
"There are rules, but nobody is enforcing them," Giles said. "I watched the loading zone get filled up by normal vehicles. The drivers said they didn't see the signs. And most available downtown parking spots are filled up by employees that work down here."
Chepeka said a member of the construction team gave all area businesses advanced warning that the project was to take place. Giles said that advanced notice arrived as the cones were being placed in the street.
"The real sad part is we didn't have much of a heads up. The contractor came in the morning. I feel like I showed up to Christmas morning and got a big lump of coal," he said.
Bondy said he isn't pointing fingers at anyone, as the project was planned more than a year ago.
But downtown construction is a business and traffic nightmare.
Along with the lamppost replacements, Third Street Bridge is being replaced, and Wellington Street at Lacroix Street is a mess with sewer replacement.
"It takes the steam away from the downtown businesses," Bondy said.
Chepeka said the project will be completed in stages, with the first being from William Street to Sixth Street, and then from Sixth to Fifth Street.
"Everybody has to put up with a little inconvenience to get some improvements on the street," Chepeka said. "It's unfortunate, but I feel we've tried our best to accommodate everyone. This is a well-thought-out project."
He said, weather permitting, the project could move down the road by early next week.
Meanwhile, Giles wonders how it's impacting other businesses in the area.
"Patios, you're going to be out there eating your sandwich with concrete dust in your face," he said.