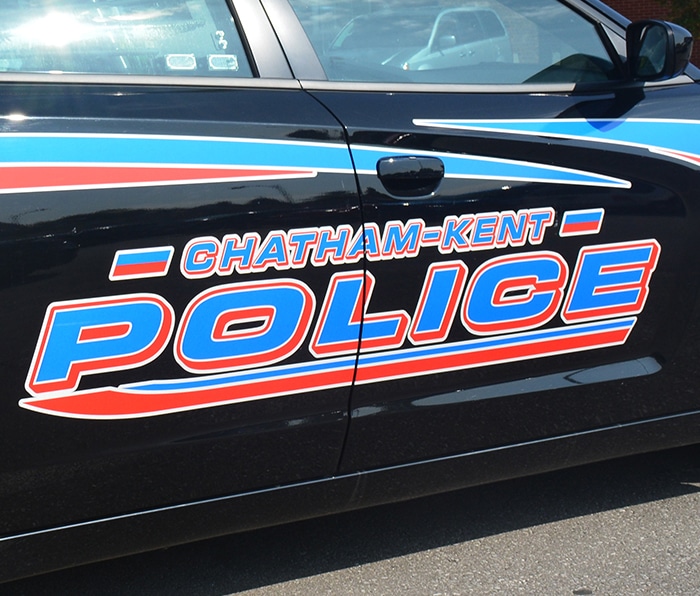 Strange days indeed
It took Chatham-Kent firefighters and a boat to help Chatham-Kent police make an arrest Sunday night in Wallaceburg.
Shortly before 8 p.m. Sunday, police responded to a complaint of a suspicious person in a backyard on Old Glass Road in Wallaceburg.
The male party left the backyard, entered the river and was wading in the water with his clothing over his head. The man refused to come to shore and continued to tread water, police say.
The Chatham-Kent Fire Service dropped a boat in the water and was able to remove the male party from the river.
He was assessed by paramedics and once cleared he was arrested by police.
A 40-year-old man of no fixed address is charged with breaching the peace.
B&E
Police are looking for information regarding a break and enter in Chatham.
Early this morning, about 2:40 a.m., police responded to an alarm in a compound located on Grand Avenue East in Chatham.
Upon arrival, the officers observed a man fleeing from the property.
The break and enter was confirmed, a perimeter was set-up and the Chatham-Kent Police Service Canine Unit attended. A search was completed but no suspect was found.
There were multiple storage units entered with bolt cutters being used to cut the locks. The property from the storage lockers was recovered at the scene.
Anyone with information is asked to contact Const. Max Bossence at maxb@chatham-kent.ca or 519-436-6600 ext. 87346. Anonymous callers may call Crime Stoppers at 1-800-222-TIPS (8477) and may be eligible for a cash reward.
Where's the cash for that?
Chatham-Kent police have arrested a man for theft and possession under $5,000.
On Sunday morning at approximately 7:46 a.m., police responded to a gas station on St. Clair Street in Chatham.
Through investigation, the officer learned that a male suspect had selected several items from the store and exited without attempting to pay.
A 39-year-old of man with no fixed address was arrested, charged and held for a bail hearing.
Warrant arrest
Chatham-Kent police have arrested a man wanted on an outstanding warrant.
On June 11, he failed to comply with a condition of his release order to reside at a specific address and to remain in that residence from 11 p.m. to 6 a.m., police say, and a warrant was issued for his arrest.
A 41-year-old Howard Township man was arrested and charged with failing to comply with the conditions of his release order.
Breach
Police have arrested a man after he was found to be in breach of a release condition.
At 3:24 a.m. Monday, police responded to a report of a disturbance on Park Avenue West in Chatham.
Through investigation, the responding officer learned that the man had a curfew from 10 p.m. to 6 a.m. and that he was in breach of this condition.
A 32-year-old Chatham man was arrested and charged.
Comments
comments