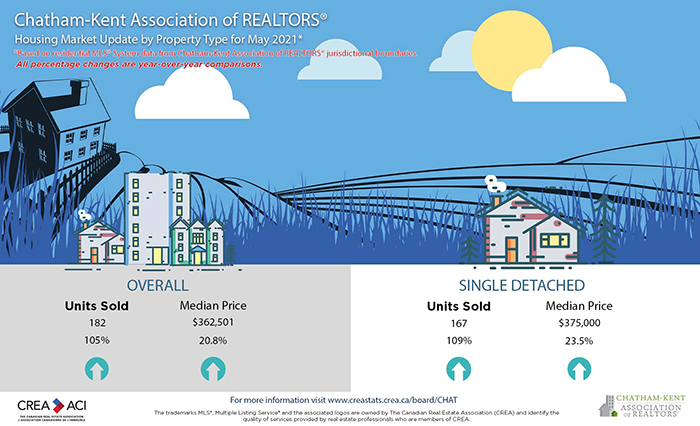 Just when you thought the Chatham-Kent real estate market couldn't get any hotter, along came May 2021.
According to figures from the Chatham-Kent Association of Realtors (CKAR), 182 homes sold last month, more than double what changed hands a year ago, and setting not only the hottest May on record, but the most sales of any month in history.
All those sales were 23 per cent above the five-year average and nearly 30 per cent beyond the 10-year average.
On a year-to-date basis, home sales totaled a record 734 units over the first five months of the year. This was up sharply by more than 67 per cent from the same period in 2020.
"We assume that with more people adopting COVID safety measures and vaccine inventory becoming more prevalent, this has allowed potential buyers and sellers to feel somewhat protected and safe in their home buying and selling process, therefore sales activity is still robust," said Laura Tourangeau, president of CKAR, in a news release. "We've seen a surge in new listings returning to the market, but this has done little to offset the white-hot pace of demand. With inventories still at record lows, market conditions are still deep into sellers' territory."
The average price of homes sold in May 2021 was $398,827, an increase of more than 26 per cent from May 2020.
The more comprehensive year-to-date average price was $402,900, a jump of nearly 43 per cent from the first five months of 2020.
The dollar value of all home sales in May 2021 was $72.6 million, more than double the levels from a year earlier, up more than 158 per cent from the same month in 2020. This was also a new record for the month of May.
The number of new listings saw an advance of 75 per cent from May 2020. There were 238 new residential listings in May 2021. This was the largest number of new listings added in the month of May in more than five years.
However, active residential listings numbered 147 units on the market at the end of May, down more than 17 per cent from the end of May 2020. Active listings haven't been this low in the month of May in more than three decades.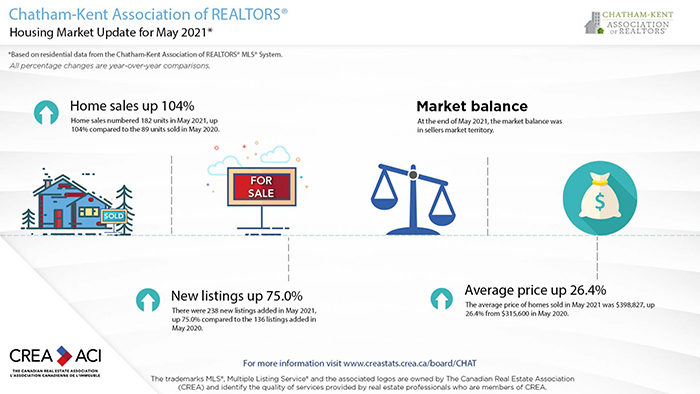 Comments
comments