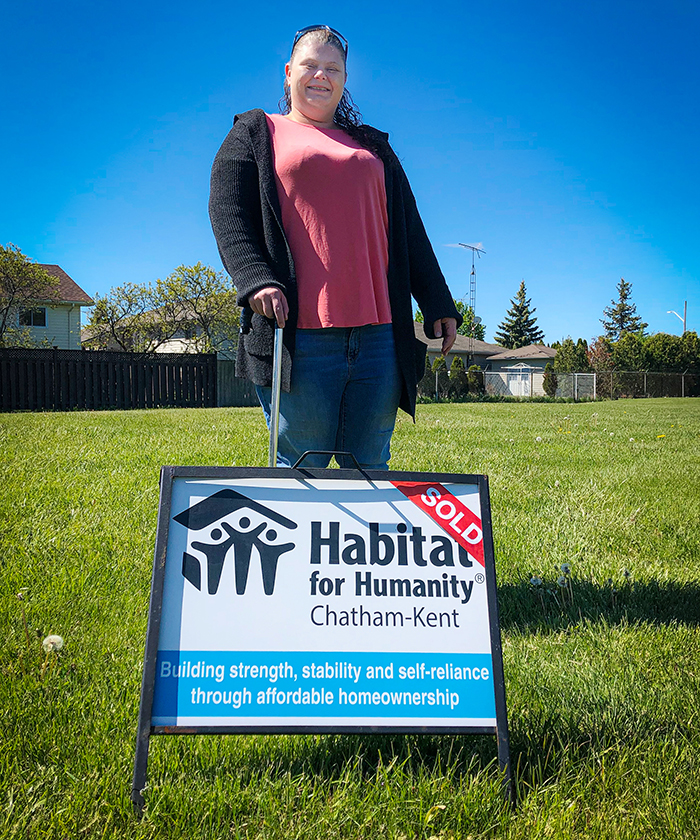 A quiet cul-de-sac will soon give way to excavators, as Habitat for Humanity Chatham-Kent (HFHCK) breaks ground on its 2021 build in the community of Wallaceburg.
Plans for the build at 324 Bethel Rd. were put on hold last year due to the COVID-19 pandemic and its impacts on the community. However, Habitat is back and will build its seventh home in Chatham-Kent, and the second time a home will be put up in Wallaceburg.
For Melanie Dramnitzke, the future homeowner, and her two children Terri and Rhonda, it is just the beginning of something they never thought possible.
"I am in complete shock and overwhelmed with so much joy as I never thought this could be possible. Habitat for Humanity is doing so much more than just building a house, they are building a strong foundation to help me better my future. I can't thank them enough for helping me make my dreams become a reality," Dramnitzke said in a media release.
In previous years, HFHCK held groundbreaking ceremonies where volunteers, businesses and organizations that give their time, talent, and financial support would come together to celebrate the start of the build. However, this past year has been unlike any other with the COVID-19 pandemic. Due to current provincial protocols, a small ceremony with the partner family will be held when it is safe to do so.
But this did not stop various community partners from sending warm sentiments and encouraging words for this year's build.
Among them is Sacwal Flooring Centres Chatham who has actively been involved with Habitat for Humanity CK since 2015.
"Upon completion of that initial project, we realized that aligning Sacwal with this dedicated group of volunteers was a great fit for us, with our products, services, and most importantly, with our Mission Statement Vision: to be a beneficial and positive community citizen, always striving to meet and exceed the expectations of the great people of C-K," Alanna Aarssen, president of Sacwal, said.
Since 2017, Sacwal has committed to donating and installing flooring products for all of HFHCK's builds.
Habitat will also be partnering with AUBI construction for the first time on this year's build.
Mark Timmermans of AUBI commented, "AUBI decided to partner with Habitat for Humanity as a way to get involved in the community and give back to people in need. Every family should have a decent home to raise their family and here at AUBI we believe Habitat for Humanity provides that exact opportunity."
Mayor Darrin Canniff acknowledged the municipality has been a supporter of HFHCK during their previous builds.
"The need for affordable housing is growing and it is great to see organizations such as HFHCK persevere through the pandemic to continue building homes and supporting local families into homeownership."
Partner families with Habitat for Humanity purchase their home through an affordable, zero-interest mortgage geared to their income – making the transition to homeownership possible for many families in the community.
For more information on HFHCK, visit www.habitatchatham-kent.ca.
Comments
comments