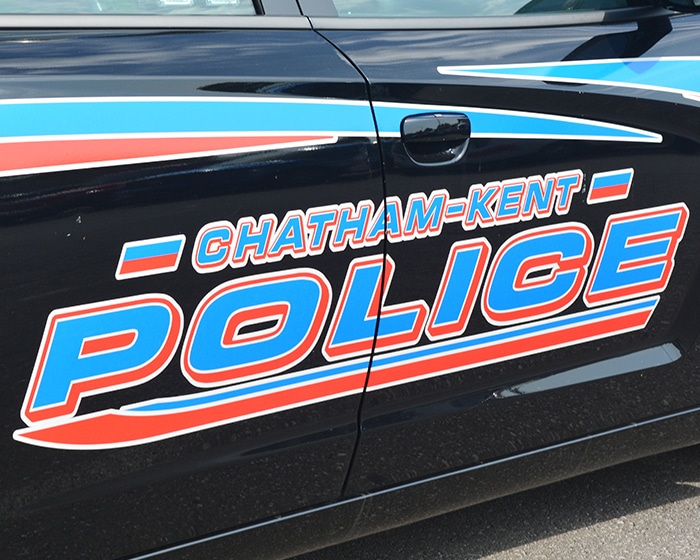 Serious crash in North Kent
Yesterday afternoon around 3 p.m., Chatham-Kent police responded to a two-vehicle collision on Dawn Mills Road near Croton Line.
A 27-year-old North York woman was travelling eastbound on Croton Line when she struck a 64-year-old Dresden woman travelling northbound on Dawn Mills Road.
Both women were transported to the Chatham-Kent Health Alliance with serious injuries.
The North York woman was transferred via Ornge air ambulance to London for further medical treatment.
The Dresden woman was transferred via ambulance to Windsor for further medical attention.
Total damage has been estimated at $50,000.
The Traffic Unit has taken over the investigation. Anyone with information is asked to contact Const. Josh Flikweert at joshuaf@chatham-kent.ca or 519-355-1092.
Woman faces domestic charges
Yesterday morning, police responded to a domestic disturbance at a residence in Chatham.
Through investigation, police learned that a woman entered a man's residence and would not allow him to leave the bedroom to call for help.
A neighbour called police when they heard the man and woman arguing.
Upon police arrival, officers located the woman in the home, regardless of being bound by conditions not to attend the residence or speak with the man.
A 25-year-old Chatham woman was arrested and transported to police headquarters where police say she kicked the prisoner phone off the wall in the booking area.
The woman was charged with break and enter while committing forcible confinement, mischief and five counts of failing to comply with her release conditions.
Woman charged with assaulting a cop
Last night, an officer on general patrol observed a woman wanted for failing to comply with her release conditions and breach of probation, walking on Elizabeth Street in Thamesville.
As the officer approached the woman, she fled on foot. Following a short foot chase, the woman was placed under arrest for the outstanding warrants. At this time, the woman resisted arrest by striking the officer in the face and kicking him. The officer used a Taser to subdue the woman, police say and she was taken into custody.
A 44-year-old Thamesville woman was additionally charged with resist arrest and assault police.
Break and enter charges
Last night, police responded to an alarm at Maple City Mini-Storage on Grand Avenue East in Chatham.
Through investigation, police located a woman inside the compound and damage to a storage unit. The woman was arrested and upon being searched, was found to be in possession of an Exacto knife, a wire cutter and pliers.
The 36-year-old woman, of no fixed address, was charged with failing to comply with her release conditions by breaching her curfew, being in possession of break-in instruments, and two counts of break and enter. She has been held in custody pending a bail hearing.
Motorcycle stolen
Sometime late Monday night, someone stole a black 2003 Kawasaki Ninja ZX12R motorcycle from a parking lot on McNaughton Avenue East.
The motorcycle was last seen with Ontario license plate 9B1J0.
Anyone with information is asked to contact Const. Max Bossence at maxb@chatham-kent.ca or 519-436-6600 ext. 87346. Anonymous callers may call Crime Stoppers at 1-800-222-TIPS (8477) and may be eligible for a cash reward.
Comments
comments