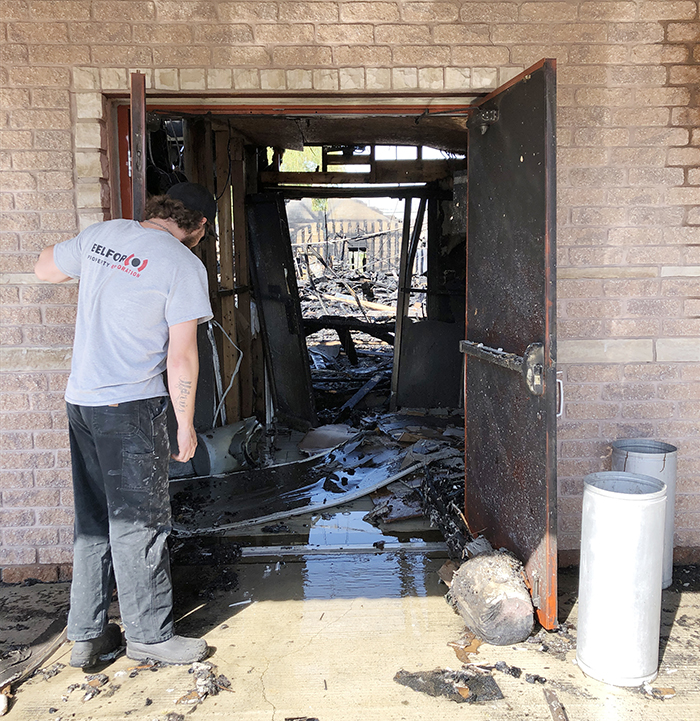 By Pam Wright
Local Journalism Initiative Reporter
Joe Kaminski shook his head as he surveyed the burned-out remains of Chatham's Polish Canadian Club last Wednesday.
"That's a lot of memories," the club's vice-president told The Voice as he watched a restoration crew put up a fence around the building.
The 81-year-old Inshes Avenue structure is a lost cause with only the sturdy brick front facade of the building still standing.
Kaminski, who immigrated to Canada from Poland in 1977, said the club has been a "home" for Polish immigrants from across the region, providing a safe haven and supports in a brand new land.
"We had a library where you could borrow Polish books," Kaminski said. "And it's where we celebrated our holidays both Polish and Canadian."
The building, which has been added on to many times over the years, underwent $50,000 worth of renovations only two years ago.
Ben Kaminski – who isn't related to Joe, but the two say they are brothers – is the Polish club's president. He said he got the call about the fire shortly after 9 a.m.
All told, 50 Chatham-Kent firefighters battled the blaze that spewed clouds of black smoke across the city for hours.
According to Chatham-Fire Service officials, the fire, which started in an empty warehouse adjacent to the club, caused an estimated $3 million in damages.
The fire service lists the cause as undetermined.
According to Ben, the empty warehouse has been vacant for at least seven years with no heat or hydro.
He said the building was in rough shape.
"Everything was stolen out of it," Ben noted. "Every bit of copper and wire was gone."
The Polish Club was a frequent target of thieves, he said, before a security system was installed.
Thirty years ago, the Polish Canadian Club had upwards of 300 members, and busloads of people from other towns travelled to Chatham for social events and dances.
Today the membership has shrunk to 120.
Neither of the Kaminskis is sure what the future holds for a building where countless celebrations have been held over the years.
Whether the Polish Canadian Club will be rebuilt remains to be seen.
"It's hard to say," Joe noted. "We're getting old."