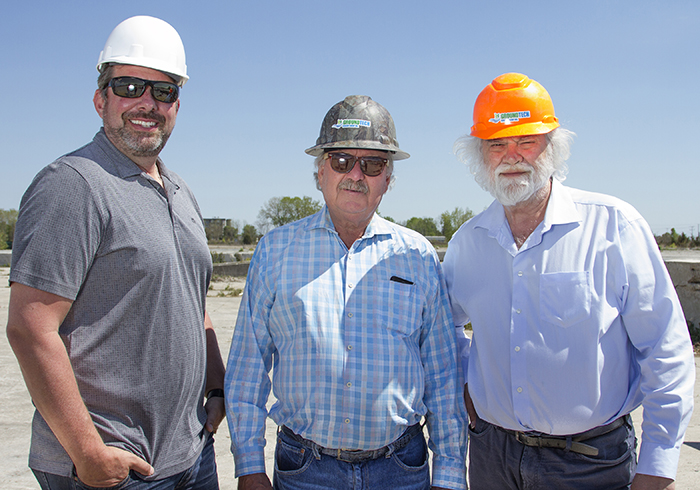 Remember all those good-paying jobs that dried up when Navistar abandoned this community a decade ago? Well, there could be a light at the end of that dim tunnel.
The property on Richmond Street has been an eyesore for years.
Three local businessmen – Don Tetrault, Rob Myers and Mike Vagi – have bought the land and are already in the process of breaking up concrete to get to the soil.
For more than 60 years, International/Navistar built trucks on that property. As well, there is an old Chatham city dump on the south side of the property.
Yes, the buyers are aware of all of this. Yes, there will need to be some remediation done of the brownfield.
When The Voice interviewed the buyers, it was clear they had done their homework on the 80-plus-acre property.
Development won't happen overnight, but expect it to occur, and some of it could begin later this year.
Industries have already made inquiries on the availability of land on site. Remediation requirements aside, what Vagi, Myers and Tetrault have is a fully serviced gem. With property access from three streets and only a few kilometres from the edge of Chatham and Highway 401, this is an attractive site for industry. And that's before you factor in the reality that it's serviced already with an abundance of hydro, natural gas, water and sewer capacity. Instead of waiting for such services to be installed, it's all there, ready to be accessed.
The property is located in the middle of Chatham, but the spin-off positives from industries that do set up shop there mean good things for all of Chatham-Kent. We are talking the potential for decent-paying jobs, and a more diversified tax base, which could alleviate some pressures on the residential tax base.
There will be naysayers, but then again, there will always be naysayers, especially online. The reality is the developers used their funds to purchase the property from Navistar. What was an ugly reminder of the past glory days on that site is now in the process of being healed.
And as these gentlemen say in this edition, stay tuned for more news in the weeks to come.