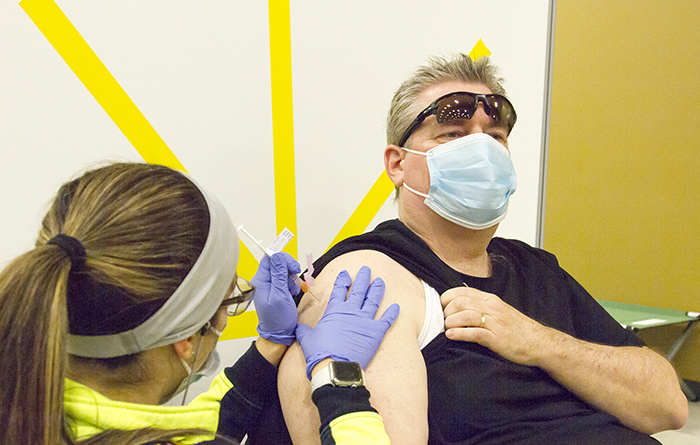 Corcoran gets COVID-19 vaccination
Well, on May 11, it happened. I finally got jabbed with my first dose of COVID-19 vaccine.
I have no vaccine hesitancy. What I do have is asthma and obesity, two factors that would make my trip through COVID-19, if I were to get it, problematic.
So, the first chance I got, I booked a shot. My problem was I played by the normal rules.
I booked at just one pharmacy as soon as the AstraZeneca shots became available at three Chatham-Kent pharmacies. I saw on social media other friends who manipulated the system and booked everywhere they could, taking the first shot that came up. Most cancelled their other bookings, freeing them up eventually for others.
Not me. I stayed true. What's worse, I chose a pharmacy other than where my wife, Mary Beth booked. So, when she got jabbed in mid-April, I was left waiting. I figured it would be a couple of days, but, nope.
So when the opportunity to book through the Bradley Centre's vaccination station due to my age and ailments, I clicked on GetYourShotCK.ca. Boom. Booked for May 11 at 10:50 a.m.
Last Tuesday, I showed up on time with my health card and was greeted by friendly volunteers and staff, given a medical mask, hand sanitizer, asked screening questions, confirmed via my health card, then registered inside the vaccination area and walked over to the jabbing zone.
Natasha, a very nice young paramedic, took care of me, quickly and painlessly. We chatted about if she saw people experiencing reactions to the shot, and she told me she found more people reacted to the flu shot than the COVID-19 vaccine.
A quick jab and I was off to the waiting area for 15 minutes to ensure I had no immediate adverse reaction.
An equally quick checkout, taking place 29 minutes after my scheduled arrival time, had me in and out in about 30 minutes.
Later that day, I felt the impact of the shot. As I reached out to pick up the phone, my arm reminded me where I got jabbed. That lasted for maybe 24 hours, but that was all I felt in terms of fallout from the shot.
I can book my second shot starting at the beginning of August.
As for the pharmacy shot, I cancelled it as soon as returning to the office.
What a nice gesture
A group of dads gathered in a socially distanced manner Saturday to spread a little love throughout Chatham-Kent.
Thanks to a slew of sponsors, we delivered soup and flowers to about 230 mothers in the area.
I took my daughter Brenna for help delivering the fun. We stopped in at the Rice & Noodle parking lot just before 11:30 a.m. and quickly received our soup and carnations.
Off we went with a list of seven lucky mothers, nominated by other members of the community. Our trek took us on a simple route that worked perfectly for us.
What didn't work perfectly, however was reaching out to our lucky mothers prior to us arriving at their doors. What I take for granted – calling people up out of the blue – is something my daughter is not yet used to. So once she planned out exactly what she wanted to say – on the phone in advance and at the door – we hit the ground running.
We encountered some very happy and smiling moms, who certainly appreciated the thought, and the soup and flowers. In some cases, we left the gifts with their children, or on the front porch in plain view.
Overall, about 30 sponsors and 30 drivers, with support teams such as my daughter, took part. Combined, we "created 230 smiles," according to organizer Jeff Comiskey.
This is the second such event I worked on with this crew, as I helped last Father's Day delivering a mini pizza and a beer to fathers too.
It's a great, simple idea, but can't happen without volunteers and sponsors.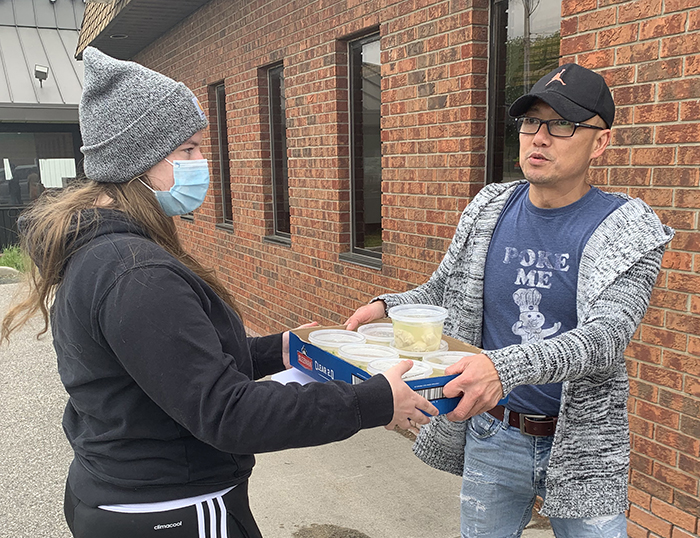 Comments
comments