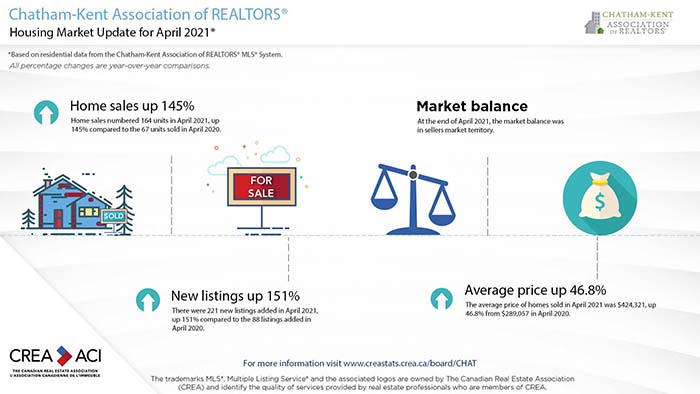 The real estate heat wave continued in Chatham-Kent in April, as sales more than doubled the number of homes sold for the same month in 2020.
According to Chatham-Kent Association of Realtors (CKAR) officials, the number of units changing hands totaled 164 units in April 2021. This was up nearly 145 per cent from April 2020. This was also a new sales record for the month of April.
As well, home sales were up by nearly 38 per cent over the five-year average and in excess of 38 per cent above the 10-year average for the month of April.
On a year-to-date basis, home sales totaled a record 553 units over the first four months of this year. This was a gain of 58 per cent from the same period in 2020.
Laura Tourangeau president of CKAR, said it was a very active month.
"Home sales posted the third highest totals for any single month on record," she said in a media release. "Strong demand combined with a rising number of new listings helped propel sales to the highest April totals in history."
The average price of homes sold in April 2021 was a record $424,321, up almost 47 per cent from April 2020.
The more comprehensive year-to-date average price was $404,109, up sharply by nearly 48 per cent from the first four months of 2020.
The number of new listings more than doubled the levels from a year earlier. There were 221 new residential listings in April 2021. This was the largest number of new listings added in the month of April in five years.
"With new listings above both the five and 10-year averages and outnumbering sales for the last few months, overall inventory appears to have set a floor and is now slowly rising," Tourangeau said. Competition for newly listed properties remains fierce, driving the average price in April to yet another all-time high, just shy of the $425K mark."