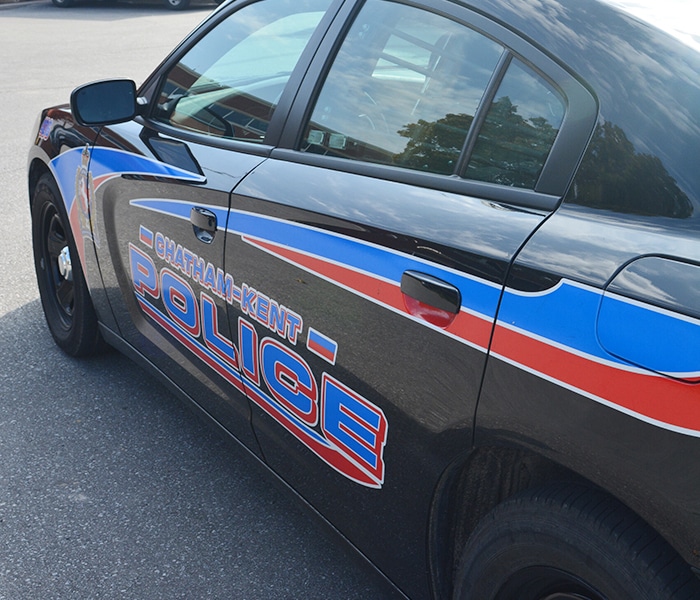 Impaired and resisting
Yesterday afternoon, an officer on general patrol in Chatham observed a vehicle narrowly missing two cyclists in the area of King Street West and Lacroix Street Bridge. The officer also observed the man leaving the roadway, driving onto the sidewalk with two tires.
A traffic stop was initiated, and, through investigation, the officer believed the man was driving while under the influence of alcohol.
As the man was placed under arrest, police say he resisted the officer. Following a short struggle, the man was taken into custody and transported to police headquarters for breath tests.
A 24-year-old Chatham man is charged with having a blood alcohol concentration exceeding the legal limit and resist arrest.
Assault charges in Ridgetown
Yesterday afternoon, police received information regarding a domestic disturbance that occurred last week in Ridgetown.
Through investigation, police learned that a verbal argument between a man and woman escalated into a physical altercation, resulting in the woman being spat on and sustaining non-life-threatening injuries.
A 33-year-old Ridgetown man was arrested and charged with assault and assault causing bodily harm.
Compliance issues
On March 23, a man was released from court with several conditions. Two of those conditions stated that he was not to attend a specific residence in Chatham or have contact with the homeowner or her daughter.
Last night, police say the man attended the woman's home in an attempt to retrieve two dogs from the backyard. Through investigation, police learned that this was not the first time that the man had communicated with the woman.
A 36-year-old Chatham man was arrested and charged with two counts of failing to comply with his release conditions. He has been held in custody pending a bail hearing.
Comments
comments