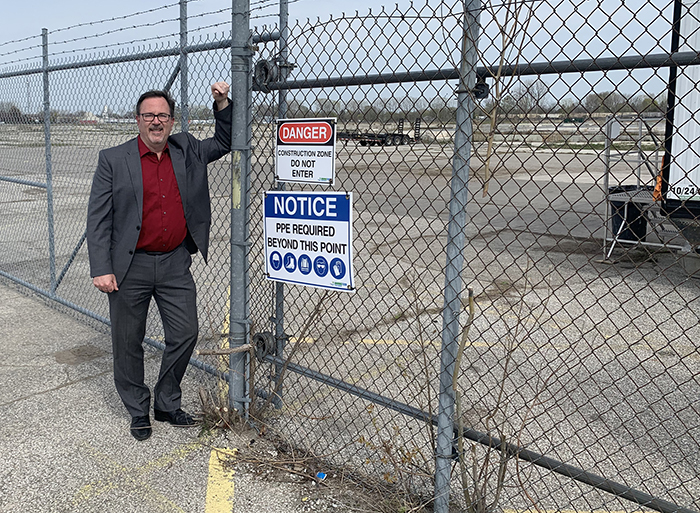 Nearly eight years after the remains of the former Navistar plant was demolished on Richmond Street, new life is apparently set to rise from the vacant lot.
Mayor Darrin Canniff announced April 27 that local business interests have purchased the more-than-80-acre property.
"This land is all serviced, primed for development," Canniff said. "You can imagine how thrilled I am. You can guess the opportunities for 80-plus acres of industrial land."
For years the property has sat behind chain-link fence, empty, a reminder of what once was on Richmond Street.
Navistar shut down the plant in 2009, laying off staff at the end of January of that year due to declining truck sales.
It reached a bargaining impasse with its unionized workers and idled the plant in 2011. Two years later, the demolition crews arrived.
At its peak 30 years ago, the plant employed in excess of 2,000 workers.
But decline in heavy truck sales, and a shift in production to Navistar facilities in Mexico, led to the decline in employment and eventual closure.
Navistar had been producing trucks on that site since 1948.
Canniff declined to name who purchased the property.
"In the next two or three weeks, we should know more," he said.
He sees the purchase as a keystone development for the future, not just on Richmond Street, but for the entire municipality.
"This opens up a lot of opportunities for this site and for Chatham-Kent as a whole for industry," he said. "This is a huge opportunity for Chatham-Kent."
He can't wait to see redevelopment on the property, noting there is already heavy equipment on site. Machines were observed breaking up sections of concrete on site when the deal closed.
Canniff said the sight of the huge chunk of vacant land will soon be a memory.
"It was an eyesore. It just reminds you of what used to be," he said, referring to the hundreds of good-paying jobs and critical industrial operation that was once located there. "It's time to look to the future and hope it (the property) will be as productive as it was previously."