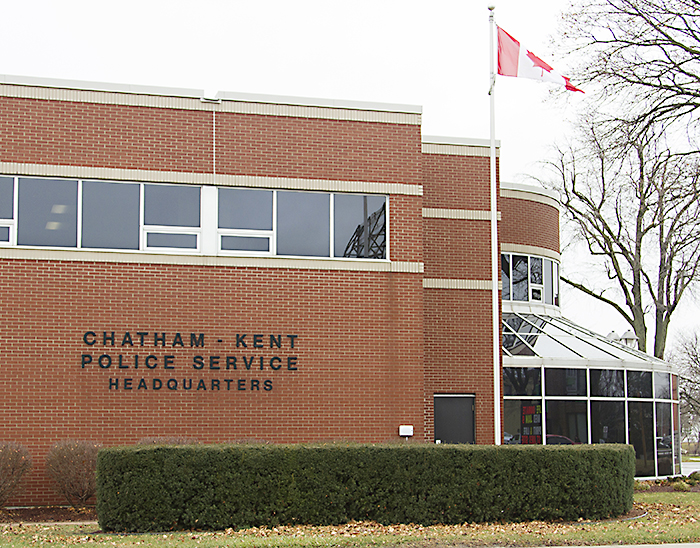 By Pam Wright
Local Journalism Initiative Reporter
There were fewer people out and about in 2020, yet overall crime rates in Chatham-Kent rose 12 percent.
A total of 5,356 crimes were reported to the Chatham-Kent Police Service in 2020, compared to 4,781 the previous year.
Property crimes accounted for the biggest hike with the rate of arson climbing 233 percent.
In 2019, 12 arsons were investigated in the municipality, but in 2020 the number more than tripled to 40.
The Chatham-Kent Police Service released the data to the Police Services Board last week as part of its annual report on crime statistics in all units.
Break and enters at businesses went up a whopping 67 percent, from 224 in 2019 to 373 in 2020.
There was also a significant increase in the number of thefts of property over $5,000, climbing from 49 in 2019 to 88 last year.
Vehicle thefts rose 13 percent in 2020, going from 239 to 269. The number of stolen bicycles – a popular target of thieves – was 137, up 43 percent compared to 96 in 2019.
CKPS board chairman Pat Weaver said the increase in property crimes can be attributed in part to COVID-19's debilitating effect on the economy.
"It's COVID times," Weaver told The Voice following the meeting.
"People are desperate," he said, adding the drug trade fuels a large slice of Chatham-Kent's crime.
According to the report, heroin is making a comeback locally. Weaver said frontline officers administered Naxolene, the drug that counters the effects of opioid overdose, a total of 42 times in 2020.
That's more than double the 2019 figure.
There were 13 fatal drug overdoses last year in the municipality.
Weaver said Chatham-Kent's greatest policing challenge continues to be its vast geography with officers covering an area bigger than Prince Edward Island.
But with the exception of Chatham-Kent's only murder on Boxing Day 2020 in Wallaceburg – there were none in 2019 – there was a drop in some violent crimes.
No attempted murder charges were laid in 2020, down from four the previous year.
But incidents involving aggravated assaults and weapons and drugs saw an increase in 2020.
The amount of drugs seized by the service's Intelligence Unit – mainly illegal marijuana grow-ops – more than tripled with a value of $11.5-million.
The unit made 93 arrests for major drug and property crimes, which led to 321 charges.
A total of 59 search warrants were carried out with 18 illegal guns seized.
The report said the drug seizures were due in large part to tips received from Crime Stoppers.