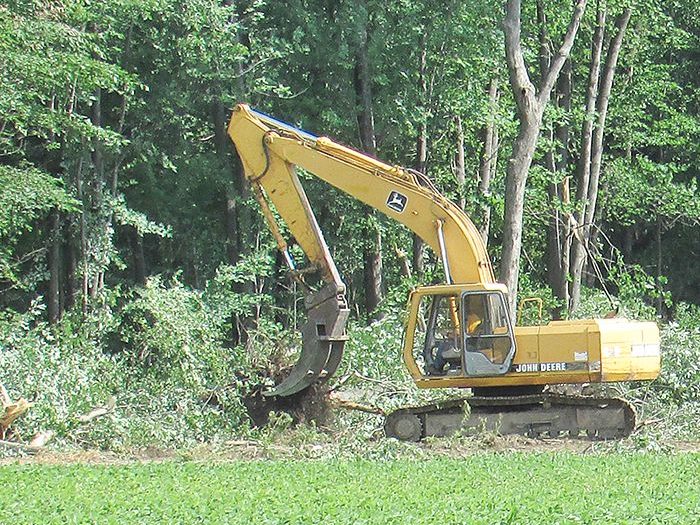 Chatham-Kent residents could soon know if clear-cutting of woodlots will be put on hold.
At the April 19 council meeting, Wallaceburg Coun. Aaron Hall brought forward a notice of motion requesting that council pass the temporary woodlot bylaw presented in 2013 which could place an immediate moratorium on the clear cutting of forest and tree cover within the municipality pending the consideration of a woodlot conservation bylaw.
Hall's motion states that the bylaw would be put in place effective immediately from when it passes, and expire within 120 days of passing, noting that  "council has committed to addressing the fact that Chatham-Kent has one of the lowest percentages of tree cover in all of Ontario by committing to planting one million trees in four years, implementing an urban tree cover policy and analyzing Chatham-Kent's canopy cover – which was updated in 2018 and listed as needing improvement, missing the mark."
The motion is to come before council tonight.
Ken Bell, a long-time advocate for CK Woodlot Preservation, welcomed the motion calling Hall "courageous" for bringing it before council.
"What it does is it buys us some time and it puts the issue to the forefront. There's a time limit so what it does is it creates an incentive for people, not just council, but people all over Chatham-Kent to put it on the front of their minds and say, 'This is something we got to deal with and let's come up with ways to make forest conservation work.' So I think it's really a great thing to do," Bell said.
The 2013 moratorium motion, brought forward by then-Wallaceburg Coun. Sheldon Parsons, passed 12-4 but the ensuing bylaw never came as council opted to go for a Natural Heritage Strategy (which Hall's motion also noted is due for an update) as it tried to appease both environmental stewards and farmers.
"It's been proven that the strategy does nothing to protect woodlands. All it does is it provides money to the Lower Thames Valley Conservation Authority to basically continue its existing green partnership initiatives," Bell said.
Part of Hall's motion that differs from the 2013 moratorium motion is the creation of an incentive program that will provide landowners with "tangible and flexible options" for being included in the program.
"I'm confident that this new approach is a responsible way to start the conversation once again," he told the Voice.
If passed, staff will also engage in a consultation process.
"I think that this, combined with the feedback from the public, will really provide the council with the new options and allow for the Chatham-Kent stamp to be placed on it."
Essex and Chatham-Kent are the only two jurisdictions in Ontario without a forest bylaw enforcement officer.
Bell hopes that this time around residents will push harder for a conservation bylaw, now that they have given the Natural Heritage Strategy a chance.
"To be honest with you (the strategy) is a little bit of green-washing on Chatham-Kent's part. It makes them look like they're doing something, but if you look on the land, there's nothing happening. So, I think most people kind of get it now," he said.