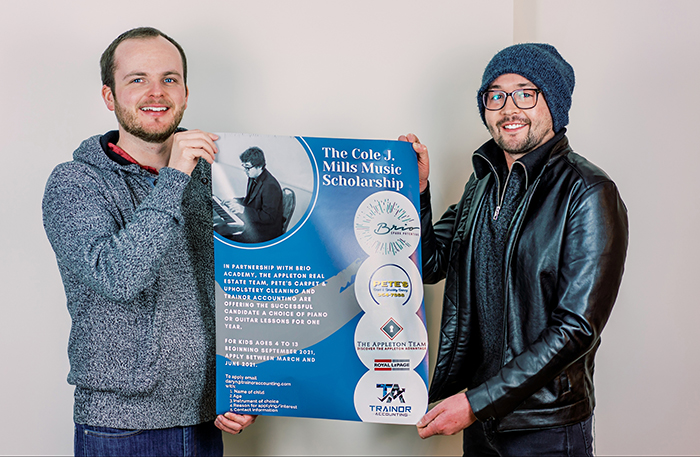 High school bandmates start music scholarship in late friend's memory
By Bruce Corcoran
Some friendships last a lifetime, but unfortunately, those lifetimes can be all too short.
That was the case for those who knew Cole Mills, a former Ursuline College Chatham student who went on to university at Wilfred Laurier. He passed away in August, but two of his longtime friends hope he won't be forgotten, as they have started a music scholarship in his name.
Daryn Trainor and Dane Appleton, along with Hudson Cattoor, literally banded together while at UCC to form Objective Unknown.
They went off in their separate directions after high school, but remained in contact, and still performed together periodically.
Until Cole died last summer.
Now, Trainor and Appleton developed the idea to have Mills' name live on through the Cole J. Mills Music Scholarship. One guitar or piano student will have a season of lessons paid for at Brio Academy in Chatham thanks to the scholarship.
The two local business professionals thought it was the least they could do for their late buddy.
"Dane and I have the benefit of thousands of memories with Cole and there's not a day that we're not reminded of him in one way or another. So after unexpectedly losing him in August 2020, we've been looking for different ways to memorialize and honour who he was and the incredible musical talent he possessed," Trainor said. "By offering this scholarship, our aim is to provide a local child with the gift of music in Cole's name. We are fortunate enough our needs in life are covered and we want for nothing, so our businesses are committed to giving back and enriching the community where there is a need."
Appleton, part of the Appleton Team at Royal LePage Peifer Realty; Trainor of Trainor Accounting; Mills' father Pete Mills of Pete's Carpet & Upholstery Cleaning; and Brio Academy collaborated to make this happen.
Mills' father Pete said he became involved as soon as Trainor and Appleton told him what they wanted to do.
"He loved hearing Cole play. He hopes with the scholarship, the candidate will be able to share that same experience with their parents," Appleton explained.
Rachel Schwarz, founder and artistic director of Brio Academy, said she is very supportive of the scholarship.
"It's a wonderful way to remember their friend and his gifts. I know it's going to make a family very happy," she said.
Applications are open from now until the end of June, with classes slated to begin in September.
"For right now, we've allocated the funds accordingly for the first year," Appleton said, and he did not rule out it expanding. "If there is a real need in Chatham-Kent for something like this, we would love to take it further. To do that, perhaps other sponsors would be able to help more kids."
As it stands, Trainor said everyone involved has a personal stake in this scholarship, but added "it would be great to offer it to more than just one kid."
Applications can be e-mailed to daryn@trainoraccounting.com. They should include the name and age of the child, their musical instrument of choice, contact information and the reason for applying for the scholarship.
"We just ask that people submit applications to say about why there is a need. If there is something somebody wants us to know, please include that. There is no formula. We are just looking to find who can benefit from this the most," Appleton, who is a guitar instructor at Brio, said.