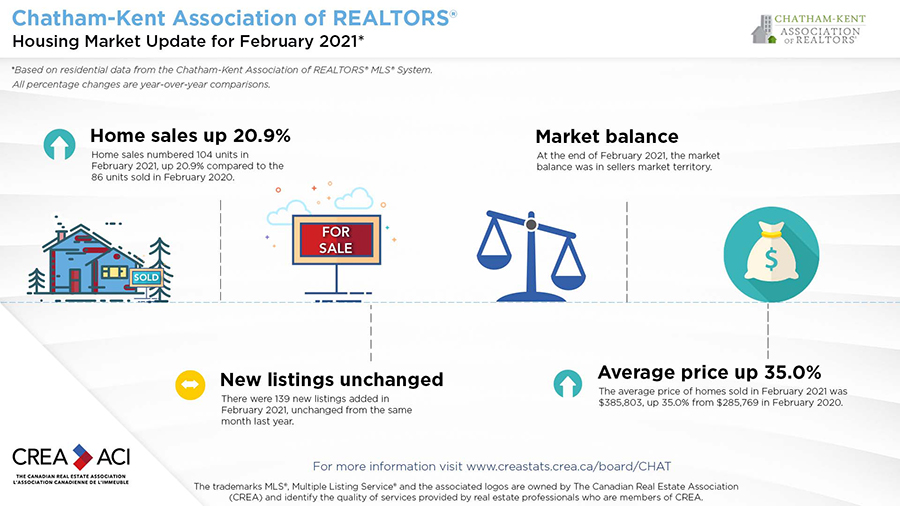 Chatham-Kent remains very much a sellers' market in terms of real estate, as prices and number of homes sold in February hit all-time highs.
A total of 104 units changed hands last month, up about 21 per cent from sales last February and setting a new sales record for the month.
So far this year, 208 homes have changed hands, up about 17 per cent from last year at this time.
"Home sales surpassed the 100 level for the first time ever in February, although with the way demand has persisted throughout the past several months, this doesn't come as much of a surprise anymore," Laura Tourangeau, president of the Chatham-Kent Association of Realtors (CKAR), said in a media release.
Last month, the average price of homes sold was a record $385,803, up a staggering 35 per cent from February 2020.
The more comprehensive year-to-date average price was $367,019, a substantial gain of 38.3 per cent from the first two months of 2020.
The steep rise in prices has led to a rise in overall value of homes sold in February. The dollar value of the February 2021 home sales overall was $40.1 million, a sharp increase of 63.3 per cent from the same month in 2020, and a new February record.
Demand is high, but supply is struggling to keep up. The number of new listings was unchanged from February 2020. In February 2021 there were 139 new residential listings.
But with all the sales, there were 74 active residential listings on the market at the end of February, a drop of more than 58 per cent from the end of February 2020. Active listings haven't been this low in the month of February in more than three decades, according to CKAR figures.
"New supply has not materialized in any meaningful way and as a result market conditions are among the tightest they've ever been," Tourangeau said.