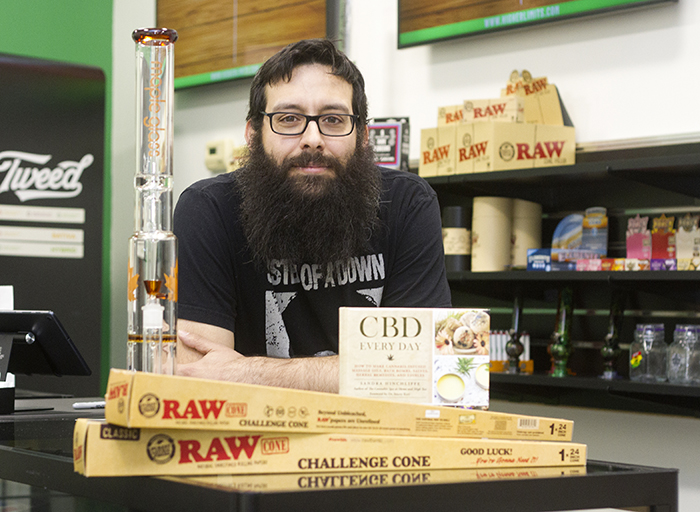 By Bruce Corcoran
The high's the limit for Greg Kazarian and Philip Bradbury, as the business partners have opened their second Higher Limits location in the municipality, this time in Chatham.
The men opened their first cannabis retail location last fall in Blenheim, followed by an outlet in Amherstburg in December, and now the Chatham store, located at 170 McNaughton Ave. W. in Chatham, right beside Comfort & Soul Restaurant.
Kazarian said he looks forward to the success of the Chatham outlet.
"I think we've come into this for the right reasons. I was born and raised in Chatham-Kent," he said. "And Chatham-Kent seems to be a lot more locally focused, more so than Windsor-Essex, for example. I think that plays a big role too."
Chatham's number of cannabis shops continues to grow. There are now five, according to Ontario Cannabis Store's online information, with three more in the application process. Kazarian welcomes the competition.
"When I was looking at it, I thought Chatham was going to have a lot of stores. But we seem to do things a lot different than everybody else," he said of Higher Limits. "The reputation we built for ourselves in Blenheim has carried into Chatham."
He anticipates selling cannabis here to people of all legal ages. Kazarian said that's the case in Blenheim.
"As we were getting ready to open (in Blenheim), a lot of the licensed producer reps that came in to talk to us said, 'You're going to be amazed at all the seniors coming in,'" he said. "I think it is stereotyped that it will be the younger crowd that is coming in, but the mix is equal across all ages. We see everybody, from 19 year olds all the way up."
While Higher Limits is a recreational cannabis location and not one for medical marijuana, Kazarian said many people with chronic pain have figured out what works best for them in terms of cannabis use to combat that pain.
"If you were to come in and say, 'I am looking for this, and this is what I'm going to use it for,' we can give you what you're looking for," he said.
High Limits in Chatham is open seven days a week, from 10 a.m. to 10 p.m. Sundays to Wednesdays, and from 10 a.m. to 11 p.m. Thursdays to Saturdays.