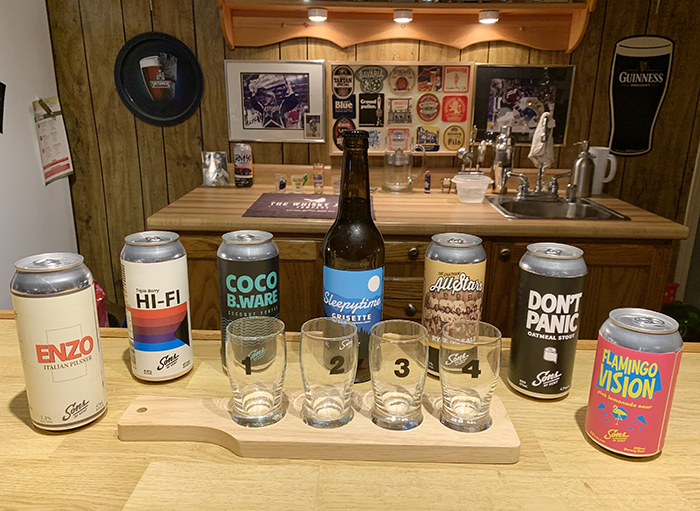 Well, we Corcorans had another taste test event on the weekend, sampling a selection of Sons of Kent offerings in Corcorans' Downstairs Pub.
I had tasted a couple of the beers on the list in the past, but I know the recipe changed for at least one of them, so it was going to be a new taste for me.
On our list were Triple Berry Hi-Fi, Flamingo Vision, Enzo, Coco B. Ware, Don't Panic and The Chatham All-Stars.
Mary and I broke out our sampling glasses (yes, we have them) and set to the taste testing.
First up was the Triple Berry Hi-Fi, a sour beer the guys at Sons of Kent rolled out for their third anniversary celebrations last year. It sold out in short order back then, but now is heading into LCBOs across much of the province.
I must preface that I am typically not a fan of fruit-infused beer, wheat beer, and extremely hoppy brews. My taste-bud wheel house is for red ales, stouts and such.
But those taste buds got a workout on the weekend. And it all started with the Hi-Fi. It wasn't sweet at all, despite having flavours from blueberries, blackberries and raspberries. But it certainly brought the tart to the table.
Again, not being a fruit beer kind of guy, I thought it was all right after the first sip, while at the same time, Mary Beth was in love with it. But after several sips, it grew on me.
I have to stress, if you take a little sip of beer, or wine or Scotch and decide you don't like it, you aren't giving your taste buds a chance to do their work. For me, the more I sipped, the more I liked Hi-Fi. It would be an awesome summer beer by the water.
Next up, we continued on our sour push (Mary Beth was closest to the fridge), with Flamingo Vision Pink Lemonade Sour. I will preface by saying I have been known to enjoy Porch Climbers in the summer months. That involved a can of frozen pink lemonade, four beers instead of water, and several ounces of rye. Mixed in a pitcher, you have some great taste.
Flamingo Vision tends to cut out the middleman in that process. It is also sour. In the basement in February did not do this beer justice. I can see myself enjoying it on a patio on a warm summer day. Also, with it packing a wallop at eight per cent alcohol by volume, you could conceivably pour this one over ice and still enjoy it. I know it sounds like sacrilege to do that to a beer, but being overproof and packed with flavour, I think it would work.
And you can most certainly taste the pink lemonade in every sip.
From the sours, we "travelled" to Italy to enjoy the Enzo Italian Pilsner. I am a Moretti fan, so I expected to like this beer.
I was right. Enzo has a very crisp flavour. It had a slightly hoppy finish that Mary Beth said was almost citrus-like. Overall, we both liked it.
We mentally returned to Chatham next, but travelled back in time to 1934. The Chatham All-Stars Rye Pale Ale beckoned.
This one brings the hops flavour of a pale ale, but not as powerful of a punch as some of the extra hoppy pale ales have. The hoppy flavour comes out at the end, for sure, however.
Mary Beth was not a huge fan. I liked it, and I think the rye gives it a unique flavour, but I think this beer is better suited to be enjoyed with food. Even adding some bar snacks really changed the flavour of this beer for me.
We held out two beers we figured would be guaranteed hits in our house, Coco B. Ware and Don't Panic. Coco B. Ware is a coconut porter that's been part of Sons of Kent's beer rotation from its early days.
Mary Beth has long loved porters and she really liked this one. It delivers a hint of sweetness, followed by very rich flavour. The chocolate and coconut ensures there is no bitter finish to this beverage.
I am a big fan as well.
For the finale, a beer I've had before, Don't Panic Oatmeal Stout. I love stouts. Good, hearty beers. And I love the fun the guys at Sons of Kent had in brewing this one. It was first brewed at the beginning of the pandemic, with a roll of toilet paper on the label — one of those panic-purchased items that flew off the shelves when we first headed towards stay-at-home restrictions — and in a bit of an ode to author Douglas Adams.
I missed out on the first offering, managed a couple of cans the second time around, and am happy to see it is in circulation.
Don't Panic is about as inoffensive as a stout can be for beer drinkers. Some folks find stouts just too heavy and strong flavoured. But this brew is one that non-stout fans should try. It's smooth as can be and is one you can enjoy all afternoon, if you wanted.
For me, the winter is the best time to drink a stout or two. Heavy beers that kind of hug you from the inside. But Don't Panic is one that would be at home on the back patio too.
I enjoyed every beer we tried on Saturday, while Mary Beth did not find just the one, the All-Stars, appealing.
Considering we sampled a wide variety of flavours, I think that says a great deal about the products Sons of Kent produce. I've had craft beer sampling days where you grab six from LCBO, share them with a friend or family member, and end up pouring half down the drain.
One thing about craft breweries is they don't focus on mainstream beer; that's what the big companies are for. They can create some very interesting flavours. Places such as Sons of Kent take your taste buds on a journey, for sure, while at the same time ensuring they have a beer for most every palate.