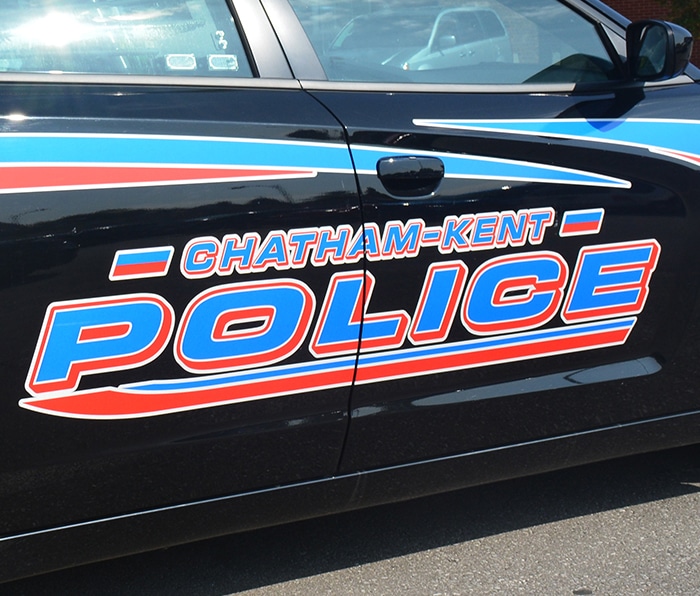 Pursuit called off due to public safety
Chatham-Kent police eventually found their vehicle, but not their driver.
At around 8 p.m. Sunday, police say an officer spotted a stolen vehicle on Bluewater Line in Wallaceburg.
The officer went to pull the vehicle over, but police say the driver hit the gas and sped off at a high rate of speed. Out of concern for public safety, police did not pursue the vehicle.
Later in the night, the vehicle was located unoccupied, and seized by police.
Baby taken from its mother
Another strange weekend occurrence early Saturday morning when someone broke into a Thamesville residence, assaulted a woman and took her infant child.
Police were advised the woman's ex-boyfriend was involved.
A 21-year-old man and his 19-year-old female friend were located by police shortly after and arrested for break and enter and assault.
The baby was located safe and sound and returned to the mother.
Strange cache of weapons
Two Chatham residents face weapons charges following a roadside stop on the weekend.
Early Saturday morning, police pulled a car over in Chatham, as police say the vehicle was known to them to be involved in ongoing criminal activity.
After pulling over the vehicle, officers found located a crossbow, BB guns and a loaded .22 rifle.
The two occupants of the vehicle, a 34-year-old Chatham male and a 23-year-old Chatham female, were arrested for firearms offences.
The male was further found to be breaching his curfew and was the suspect in multiple thefts in the county.
Police also located a large amount of other property in the vehicle, which is believed to be stolen.
The property was seized and both suspects were transported to Chatham Kent police headquarters and held for bail.
Drugs
A Wallaceburg woman faces charges following a routine traffic stop on the weekend.
Police say an officer pulled a vehicle over on McNaughton Avenue in Wallaceburg about 2:30 p.m. on Saturday.
Police learned the female driver was wanted by Chatham-Kent OPP and subsequently placed her under arrest.
While searching the female incident to arrest, police located an amount of suspected methamphetamine.
A 24-year-old Wallaceburg woman was charged for the drugs and released with a future court date. Police then transported the female to Chatham-Kent OPP for her to deal with her warrant.
Woman found hiding in man's bedroom
At approximately 11:30 p.m., police responded to a domestic dispute in the area of Harvey Street in Chatham.
Police received information that a 25-year-old Chatham woman was at her boyfriend's residence, despite being on court conditions not to communicate with him.
Officers went to the resident and found the woman hiding in the man's bedroom.
The female was arrested and charged with breaching multiple court conditions. She was transported to CKPS headquarters and held for bail.
Unsafe ice
Police have responded to several calls of collisions and vehicles falling through the ice on the rivers of Chatham Kent. Chatham Kent police would like to remind motorists to use caution and look out for open water and other drivers when they are out.
Comments
comments