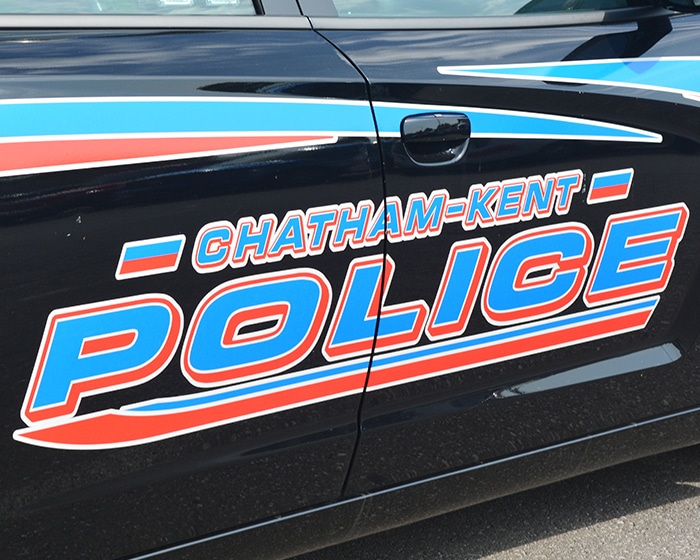 Three charged, vehicle recovered 
Yesterday afternoon, Chatham-Kent police responded to the report of a suspicious vehicle on Grand Avenue East in Chatham. 
Police located the vehicle and through investigation learned that the vehicle was stolen from Spencer Avenue in Chatham earlier in the day. 
A 25-year-old Chatham man and a 26-year-old Chatham woman were charged with possession of stolen property.
A 48-year-old Chatham woman also faces possession of stolen property charges, as well as being arrested on an outstanding warrant for several property offences, failing to comply with her release conditions and failing to attend court. 
Police investigate serious crash
On Friday night, just before midnight, police responded to a single motor vehicle collision on Talbot Trail near Lagoon Road, just outside of Blenheim.
Preliminary investigation has revealed that the woman was driving on Talbot Trail when she lost control of her vehicle, left the roadway, struck several trees and came to rest just west of Lagoon Road. 
A 32-year-old Petrolia woman, and lone occupant of the vehicle, was transported to the Chatham-Kent Health Alliance with life-threatening injuries. She has since been transferred to Windsor where she remains in critical but stable condition. 
The collision remains under investigation. Anyone with information is asked to contact Const. Dan Carroll at dancar@chatham-kent.ca or 519-355-1092. 
No licence? No driving!
Yesterday afternoon, an officer on general patrol initiated a traffic stop on Sandys Street in Chatham.
 Through investigation, the officer learned that the man was suspended from driving for medical reasons.
A 34-year-old Wallaceburg man was charged with driving while under suspension and failing to surrender his insurance card.  
His vehicle was towed from the scene. 
Warrant arrest 
Early this morning, police arrested a man in Wallaceburg who was wanted for domestic related offences.
A 28-year-old man of no fixed address has been held in custody pending a bail hearing. 
Fraud warning
Chatham-Kent police would like to remind citizens that scammers continue to call, e-mail and text people in an effort to defraud them of their hard-earned money. 
Last week, a local woman received a call from a man purporting to be from a bank, advising that her VISA card had been compromised. 
The man claimed that he could help her get her money back if she transferred money to him.
The woman complied with the man's demands and attended a local business in Chatham to send the money via Western Union to Uruguay. The employee was suspicious of the woman's request and contacted police. 
The woman was intercepted by police before any money was sent. The woman's bank was contacted and they confirmed that her VISA card had not been compromised. 
Protect yourself with these safety tips: https://www.antifraudcentre-centreantifraude.ca/protect-protegez-eng.htm 
For more information about scams and frauds, please see: https://antifraudcentre-centreantifraude.ca/index-eng.htm