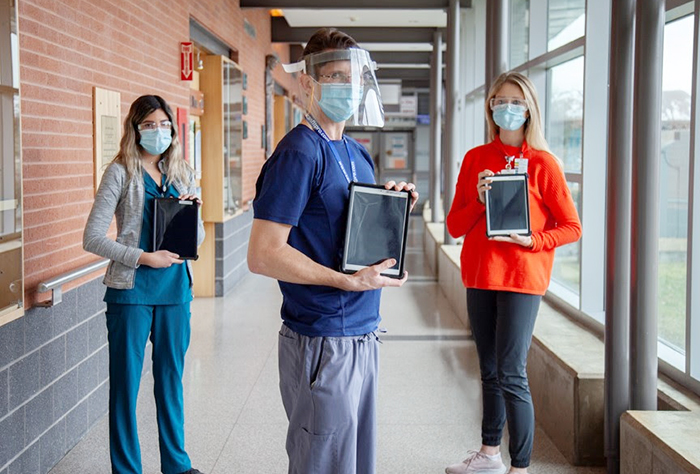 Patients at the Chatham-Kent Health Alliance (CKHA) will receive improved virtual access to loved ones during the COVID-19 pandemic and increased visitor restrictions at the hospitals.
CKHA administration recently announced enhancements to its virtual visiting program with the launch of Patient and Family Communication Liaisons (PFCLs); a new role to the organization that will assist patients in connecting virtually with their family and friends throughout their stay in hospital.
At the outset of the pandemic, CKHA implemented visitor restrictions to ensure the safety of its patients, staff, physicians and the community, according to hospital officials. In response to these difficult circumstances for those in hospital, CKHA received a number of electronic devices through a donation to allow for virtual connections for patients and their loved ones.
As visitor restrictions remain in place and evolve in response to the pandemic, a need to enhance virtual visiting options was recognized, hospital officials said. Along with securing additional electronic devices, a new approach in connecting patients virtually with their loves ones through the role of PFCLs recently launched at the hospital.
"We know it's been very difficult for our patients and their families during this time as our visiting restrictions have become more restrictive in response to the changing needs of the pandemic," said Lori Marshall, President and CEO, CKHA, said in a media release. "Recognizing this, we are pleased to offer additional virtual visiting options through our Patient and Family Communication Liaisons. This unique role will help our patients with not only technical assistance, but with care and compassion as they facilitate virtual visits."
The PFCLs are available to support patients and care teams with additional devices seven days per week.
The PFCLs will work with patients throughout all units of the hospital and their care teams to identify virtual care partners and preferred methods of communication (FaceTime, Zoom, phone, etc.) and will provide ongoing assistance throughout patients' hospital admissions.
Additionally, the PFCLs will assist in setting up virtual family meetings at the request of the care team and/or patient, and ensure all electronic devices are charged, sanitized and ready for use.
Comments
comments