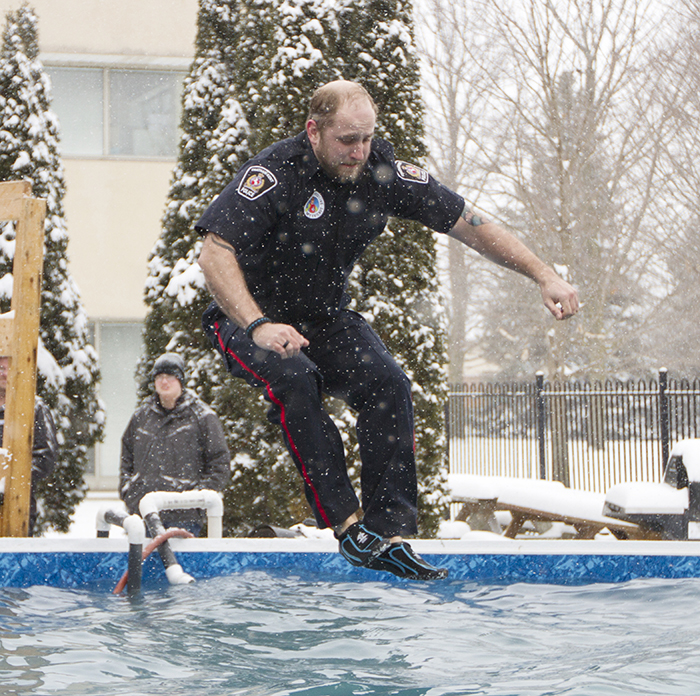 By Jenna Cocullo, Local Journalism Initiative
Const. Jason Herder's name may be on the Chatham-Kent Police Service's Award of Honour, but he says it belongs to everyone in the community who helped him out over the years.
On Tuesday, Chief Gary Conn presented Herder with the accolade for his work in working with various elements of the Special Olympics.
"Simply put, it is a very humbling experience. My reasoning to do all this is not for recognition or awards, but things like that is very humbling," Herder said.  "Although the award was presented to me, I couldn't do it without the involvement of our community. It's an award I want to thank and share with our community, sponsors and volunteers."
The Award of Honour is presented to law enforcement personnel or corporate sponsors who achieve at least a five-year involvement with the Law Enforcement Torch Run for Special Olympics and made an exemplary contribution.
"Jason Herder is certainly deserving of this award given all the exceptional and model work he has completed over the years to help fundraise and organize events," Conn said.
Herder first got involved with volunteering in 1997 when his late dad, Const. Rob Herder, served as treasurer for the summer games. Jason Herder was brought to the games in Sault Ste. Marie where he helped with the medal ceremony. Not only did he appreciate the father-son bonding time, but also the joy it brought to the athletes.
"Just seeing how happy those athletes were to be involved in those games, that's it, I was 100-per-cent sold and it reinforced why it is worth all this time to participate in this cause. They deserve to participate in this game and I see how much it means to those special-needs athletes and their families," he said.
For years the police service's co-ordinator for the Torch Run, Const. Mike Currie, was trying to find the perfect person to take over his 30-plus years of involvement as he was setting to retire.
"I always supported the campaign and events (Currie) started, whether it was to buy a T-shirt or do a run. Then I kind of started to see the bigger picture that I was going to be part of his retirement plan and he took me under his wing. I had big shoes to fill," Herder said.
One of the biggest changes Herder implemented to elevate what Currie had started was a social media campaign which ended up bringing in participants all the way from Michigan. In Herder's first year taking over, he brought in $10,000 in fundraising. 
Since then, a grand total of $67,000 has been raised throughout Chatham-Kent.
"Years later, the key to the success of Law Enforcement Torch Run events in Chatham-Kent is still great support from our local community and incredible volunteer work from our Law Enforcement Torch Run committee led by Jason," Conn said.
This will be Herder's sixth year organizing events. Although there are no games going on, he said it is still important to ensure all the programs still running for the special needs athletes are infused with hard-earned fundraising dollars.
The Polar Plunge, one of the most popular yearly events, will continue with its virtual format this year. Online registration is kicking off Feb. 1 and participants will be asked to film themselves jumping into cold water or pouring ice one themselves, and using the hashtags to promote the event.
Herder said he will not stop devoting as much time as he can to the cause. 
"A good friend of mine many years back said the more time you put in, the greater the results. So I devote as much free time as I have to doing this," he said.