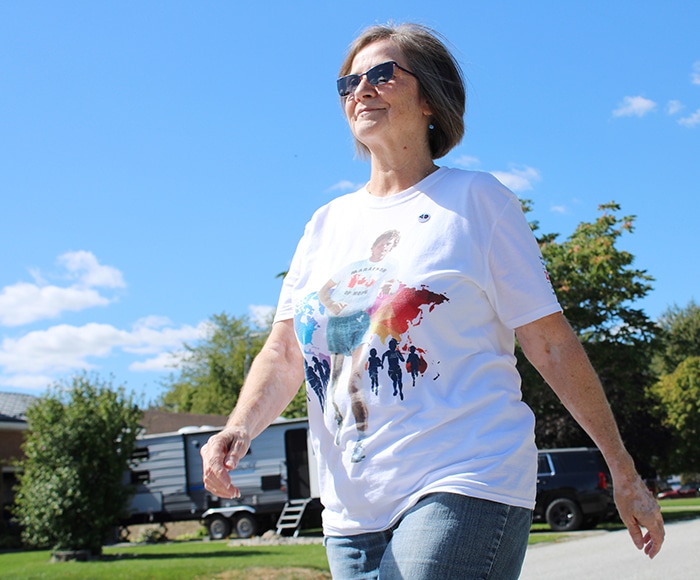 By Pam Wright, Local Journalism Initiative
Talk about ending on a high note.
After 25 years of organizing Dresden's wildly successful Terry Fox Run, Cindy Brewer has decided to hang up her clipboard.
Little did she know that in her last term at the helm, the iconic run would set another record, raising the most money in its history.
The 2020 run brought in $44,000, besting the $42,000 raised in 2015.
This year also marks the 40 anniversary of Terry Fox's heroic run for cancer research.
Brewer says she had no idea of the 2020 tally until last week, only learning of it when she sent in a last-minute donation of $500.
"There was no sense of how much we had raised," Brewer explains, adding amid the uncertainty brought by the pandemic. "Everything was all over the place."
Brewer's legacy is substantial. The Dresden Terry Fox Run has been in the top 10 in Ontario for the last 20 years for dollars raised per capita.
Brewer is passing the torch onto Megan Robinson, who started participating in the Dresden event when she was young.
"Megan is a young and enthusiastic person," Brewer says, and jokes the new organizer was a "teeny bopper" when she first started out.
"We need some fresh eyes and new legs," Brewer says. "Succession is a good thing."
Brewer told her nine-member committee in the summer that she would be stepping down. She broke the news when hosting a socially distanced gathering in her backyard, as she wanted to do it face to face.
"It's a pretty personal thing," Brewer notes. "I didn't want to do it in a text or e-mail. Twenty-five years is a long time."
Brewer says the 2020 event proved to be challenging in many ways, and committee members were forced to "step out of their comfort zones" learning all the ins and outs of technology and social media campaigns.
"I even learned to edit and shoot video," she adds.
Born in Toronto, Brewer moved to Dresden where she started Grade 1, as Dresden was her mother's hometown.
Brewer says she plans to stay on with the Terry Fox Run, helping out when she can.
However, she'll be busy with other things. She plans on spending more time with her two young grandchildren and will continue in her role as an elder at St. Andrew's Presbyterian Church.
Brewer has also recently joined the Chatham-Kent Community Foundation board of directors.
• The Thamesville Herald