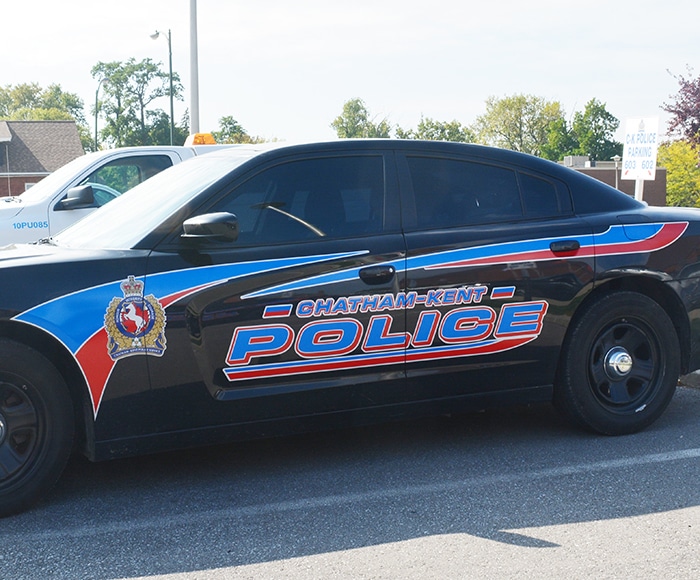 The Chatham-Kent Police Service responded to 128 calls for service in the last 24 hours.  Three people were arrested.
Woman Charged with Theft
Sunday afternoon, police assisted a man in Wallaceburg who found his stolen generator for sale on social media.
Officers identified the woman responsible and she was arrested.  Upon being searched, the woman was found to be in possession of suspected methamphetamine.
The generator was recovered and returned to its rightful owner.
Tammi Scalplock, 40 years, of St. Clair Parkway in Sombra has been charged with theft under $5000 and drug possession.  She was released pending a future court date of Feb. 8, 2021.
Man charged with robbery
A man was charged with robbery after kicking and punching  a cashier who attempted to stop the robber from leaving the store.
On Sunday night around 6 p.m. police responded the robbery at Queen's Variety, Chatham.
Through investigation, police learned that the man entered the variety store and stole a folding knife and replica Toronto Maple Leafs Stanley Cup ring.  The total value of the theft was estimated at $36.00.
The man fled prior to police arrival, and  the cashier did not require medical attention.
Officers identified the man responsible and he was taken into custody around 9 p.m.
The 18-year-old man of no fixed address has been charged with robbery and being in possession of property obtained by a crime under $5000.  He has been held in custody pending a bail hearing.
Man Arrested on Outstanding Warrant
A 33-year-old Walpole Island man was arrested and charged with two counts of driving while prohibited along with multiple Highway Traffic Act offences.
On Sunday night, an officer on general patrol observed a vehicle travelling in Wallaceburg with license plates not authorized for the vehicle.  The officer initiated a traffic stop on McNaughton Avenue.
Through investigation, police learned that the man was currently prohibited from driving and wanted on an outstanding warrant. He was released pending a future court date of February 9, 2021.
Police Looking for the Public's Assistance  
On Friday, around 5:30 p.m. police received information about a confrontation between people in a vehicle and a woman walking near the intersection of Queen Street and Mill Street in Tilbury.
The vehicle involved was a dark red / burgundy four-door hatchback.  Officers checked the area, however no one was located.
Police are looking to identify those involved and / or vehicle.  Anyone with information is asked to contact Constable Adam VanKesteren at adamv@chatham-kent.ca or 519-436-6600 extension #87188.  Anonymous callers may call Crime Stoppers at 1-800-222-TIPS (8477) and may be eligible for a cash reward.
Fraud Warning
A local woman reported to police that she had been defrauded of $5000 by a man purporting to be from a local bank.
The man claimed that there were charges on her account in the United States, relating to a family member.  The man advised that he needed her banking information to investigate the charges.
Even though the woman did not have a son by the name that the man provided, the woman complied with the man's request to assist with the investigation.  The woman bought $5000 worth of gift cards and provided the information to the man.
On Friday, the woman eventually called her bank who confirmed that she had been scammed, as there were no mysterious charges on her account.
"The Chatham-Kent Police would like to remind citizens the purchase of gift cards is a common scam technique.  Scammers are very clever and crafty, so please be very cautious of anyone asking for gift cards, money or Bitcoin.  Gift cards are for gifts, not payments," stated CKPS in their release.
For more information about scams and frauds, please see https://antifraudcentre-centreantifraude.ca/index-eng.htm