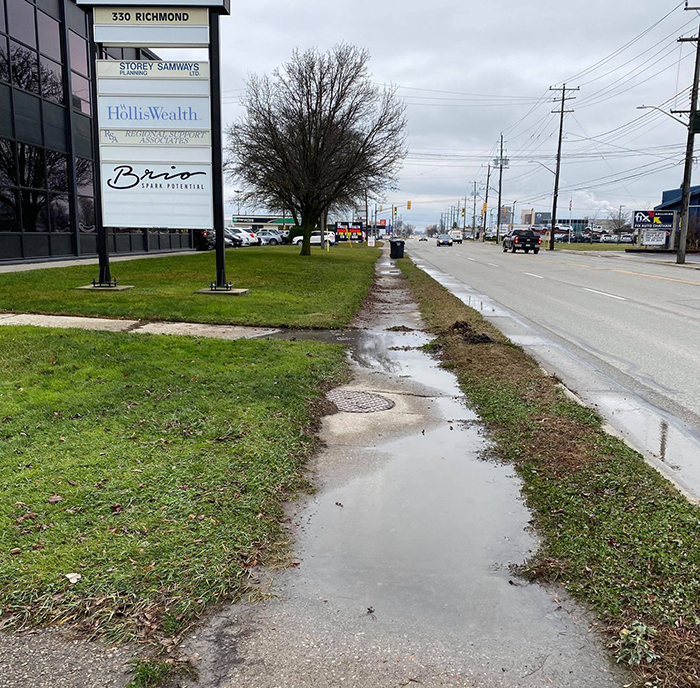 By Bruce Corcoran
A local business owner wonders what $50,000 a year in property taxes gets her.
In Rachel Schwartz' mind, it's a broken sidewalk in front of their Richmond Street building, and municipally run competition.
Schwartz, who with her husband Daniel Whittal own 330 Richmond Street in Chatham, home of Whittal + Company Law, The Brio Academy and several other local businesses, said 2020 has been a challenging year. But it's been more challenging due to the poor condition of the pedestrian sidewalk in front of the building on a main Chatham street, and branching out only to find a local competitor in the form of the Municipality of Chatham-Kent.
The sidewalk, Schwartz said, is a serious safety issue. But it's nothing new.
"We've tried to maintain it as best we can. It gets worse every year," she said. "I think the sidewalk itself is broken and it's just sinking. It's lower than the boulevard and our lawn. We have a river there most of the time."
That "river" and uneven cement even when dry, has pedestrians, scooter riders and cyclists choosing to either use the very busy street, or travel along the private cement walkway on the building's exterior that links the property's two parking lots with the main entrance.
The problem is one of safety.
"One of our teachers, who uses a walker, said she couldn't get through there. And now the problem is people are now using our little sidewalk around the building," Schwartz said of the general public. "We now have cyclists, pedestrians, anyone using motorized scooters cutting through our parking lot and using our sidewalk around our building. It's not designed for cyclists. You can't see around the corner of the building."
The Brio Academy runs dance, martial arts and performance classes for children. One of the building's tenants works with people with special needs. Schwartz fears there will be a mishap on the property's walkway.
In an effort to get the municipal sidewalk fixed, Schwartz said she and her husband reached out to the municipality through normal channels, by calling municipal staff.
"It's what you're supposed to do," she said, but nothing came of the calls.
When sidewalks were being repaired nearby, Schwartz said she asked if the sidewalk in front of their building could be replaced.
"It was just up the street. We asked if they could just extend the project, and they just said no," she said.
But with nothing being done, Schwartz contacted municipal councillors via social media, seeking action.
Schwartz said councillors saw her post and responded quickly, which she appreciates.
"But you shouldn't have to get councillors involved for the municipality to care about a safety issue," she said.
The sidewalk is not Schwartz' only concern. With the COVID-19 pandemic, Brio Academy was shut down for several months earlier this year. They opened a new business, Sparks Toys, in an effort to generate revenue.
"It's an independent little toy store. We put a lot of work into designing these interactive camp kits, such as a mystery adventure," Schwartz said.
But Sparks had competition from a surprise source.
"And then the municipality just competed with us. CK Recreation had the free camp boxes," she added. "That was not what we needed, competition from our municipality. When your competition is where your municipality can take your tax dollars and run something at 100-per-cent loss, that's not competition, that's something beyond. It is sometimes hard to be in business in Chatham-Kent."
Schwartz realizes their business situation is not unique and issues have cropped up elsewhere, not just in Chatham-Kent.
"I think we do things really well, and I think there are challenges that are quite unique to Chatham-Kent," she said. "I know everyone is doing the best they can. No one gets up to go to work an idea to hurt businesses. But there is definitely a communications gap. When you pay $50,000 a year in taxes and you can't get the sidewalk fixed in front of your building or you can't be open, and the municipality competes with the little bit of business you can do, that is frustrating."
Comments
comments