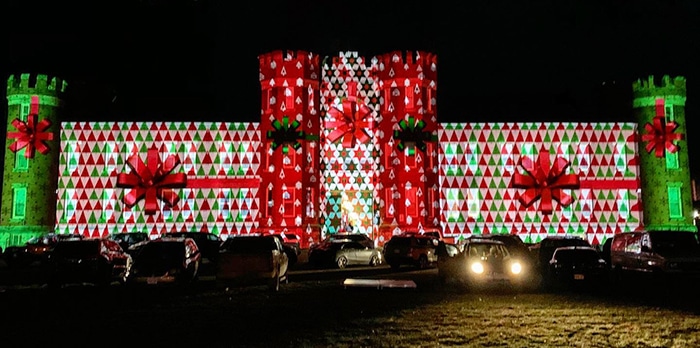 The second annual Armoury In Lights will fire up next week at Tecumseh Park in Chatham.
Put on by Four Diamond Events, the display is to share the joy of Christmas safely with the community in 2020 despite everything that is going on.
This year, the Armoury In Lights has been transformed into a drive-in experience and each show will be about 30 minutes long featuring Santa himself.
The show was sold out in the first two weeks of registration. Follow @fourdiamondevents on Instagram and Facebook for VIP ticket giveaways happening right up until the event begins, or you can email Lisa Lester at fourdiamondevents@gmail.com to get your name on a waitlist.
The Armoury In Lights is a free event thanks to advertising sponsorships and grants from both the Municipality of Chatham-Kent and the Ontario Government.
The Armoury In Lights will run Dec. 14 to 20 with shows at 5:30 p.m., 7:30 p.m. and 9:30 p.m. each night. Each show is limited to 56 parking spots and some VIP spots.
CCR Solutions of Toronto, headed by Scott Duffy, developed the creative and projection mapping technology that will be seen on the building.
Community Living of Chatham-Kent, The Children's Treatment Centre and Children Services of Chatham-Kent have reserved times for their families to see the show together.
The first show on Dec. 14 will be commemorated with Community Living of C-K's annual tree lighting in Tecumseh Park – they have decided to watch the tree lighting from their vehicles this year to keep everyone safe.
Donations are being accepted for a new supportive housing initiative brought forth by NeighbourLink. Donations are also welcomed at the event for C-K Helps the Homeless.
For more information go to www.armouryfourdiamondevents.com
Comments
comments