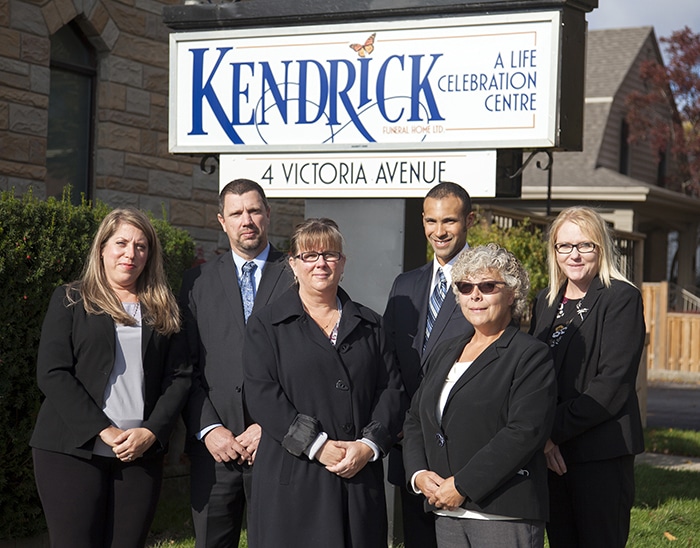 By Jenna Cocullo, Local Journalism Initiative
The new owners of a Wheatley and Chatham funeral home are committing to the community of Chatham Kent.
After changing hands several times, the former Denning Funeral Homes are now Kendrick Funeral Homes.
"We're here to stay," said Jamie Kendrick who bought the business with her husband Dave Kendrick.
The couple officially got the keys to 17 Little St., Wheatley, and 4 Victoria Ave., Chatham, in September.
Since then they have been trying to integrate as part of the community.
"But COVID put a damper on all of this because we can't go out and do stuff and we can't have an open house and have people come in," Jamie Kendrick said.
Dave Kendrick hails from Oakville and Jamie Kendrick was born and raised in the state of Kentucky, where the couple met and raised their kids until they moved to Kingsville, for farming, 11 years ago.
In 2018 they bought their first funeral home there.
"And then we always knew we wanted to try to expand into other funeral homes in different areas," Kendrick said. "But we wanted to be close; that way we could still come here. Sometimes in the middle of the night (Dave's) coming out to do removals. So it's nice to be close," Jamie Kendrick said.
Dave Kendrick said they were able to find success in their first funeral home because they participated in community organizations, showed up to events, and donated to worthy causes, something they plan to do for Chatham-Kent.
"That's part of the empathetic leisure of this business and take it past this table," he said.
Their funeral directors, Leigh Toews and Leigh-Anne Perrin, also live in the communities they serve. Jamie Kendrick also noted that all three locations are also all run by female directors, something she is proud of because the industry has been predominantly run by men.
Jamie Kendrick is no stranger to the business despite being a relatively new owner. She has been a licensed funeral director for 21 years and first began in her home state of Kentucky.
"From the time I was 15, that's what I wanted to do," she said.
Jamie Kendrick said there is a lot that goes into being a funeral director, from maintaining the facilities, to burials, pre-arrangements and taking calls from grieving families at all hours.
Because the on-call job demands do not always fit the lifestyle of new parents, there were times in Kentucky when she tried to get out of the business but always found her way back.
"But every time I would get out, I was like, 'No I have to do this.' This is just like the job that I feel fulfilled in. I love my job," she said. "If I can help someone through the worst time of their lives, that makes it all worth it."
Once things have settled down, Jamie Kendrick is hoping to add personal touches to the business such as baking her own cookies for families during visitations and personally delivering Christmas ornaments to families who have lost a loved one.
She also encourages guests to bring in "anything that can fit through the doors" which will help them say goodbye to their loved ones.
"We don't want people to be here just for their funeral. We want to build a relationship past that for families who are open to that " she said. "We want to let people know that we are in it for the long run. It's switched hands a lot of times but we would love to grow the business and become a part of the community."