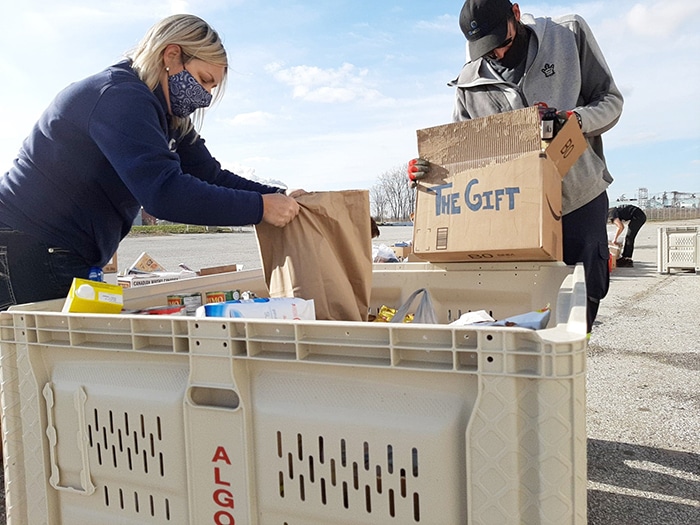 By Bruce Corcoran
Organizers say it's too early to tell just how much the community donated to The Gift on the weekend, but there is one thing they can agree on: They are overwhelmed by the support.
Brent Wilken, one of the organizers of The Gift who was also heavily involved in the May 16th Miracle, said the giving spirit in Chatham-Kent is incredible.
"There are so many different things; so much stuff. What you can tell when you walk into the (collection) warehouse is you can feel the thoughtfulness. It's out of this world," he said.
Tim Haskell, president of Chatham Goodfellows, one of the organizations benefiting from The Gift, and lending volunteer support, said he's experienced giving on an annual basis for his 43 years with Goodfellows, but the weekend's donations still surprised him.
"The volume, it caught me off guard. I was left speechless. It's awesome," he said. "We're getting stuff you wouldn't think of. It's unbelievable."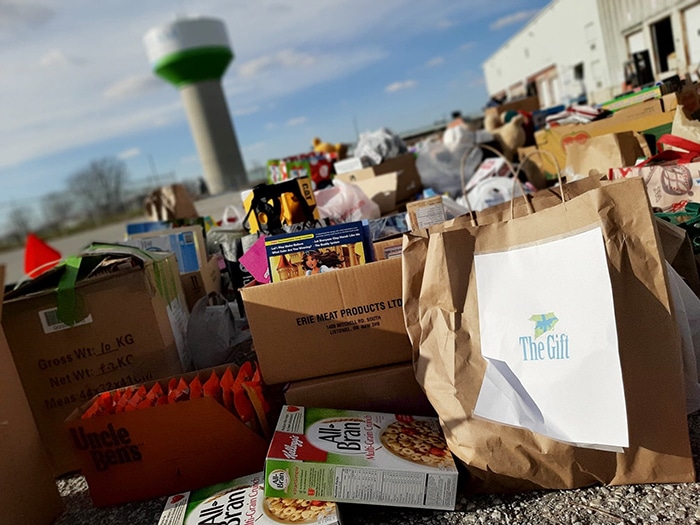 In the wake of the highly successful May 16 Miracle – where nearly 680,000 pounds of non-perishable food was collected across the municipality – the focus is now on ensuring no one in Chatham-Kent goes without a Christmas this year.
Haskell said Goodfellows is but one organization benefitting from all the giving.
"We're splitting with other agencies in Chatham-Kent, whoever needs it so they can do their hamper program or feed the homeless. It's crazy the amount of stuff donated," he said.
When he walked through the warehouse Saturday, the sheer volume got to him, Haskell said.
"I get very emotional. It brings tears to your eyes when you see all this stuff. You know it will help so many people," he said. "And this is on top of the people we normally take care of. We can help so many more people."
Wilken said he went into The Gift after The Miracle unsure what to expect, given how they were asking for toys, food and donations to help anyone in need.
"There wasn't as much food (as May 16) I would say, but there is still a lot of food, and so much good food," he said. "There are hats, blankets and socks for seniors and homeless. There's something in there for everybody."
Chatham-Kent is known for its giving, and Wilken said that translates to donations of more than just material items.
"The volunteers – people worked so hard with the community. They were so energized by the next car coming in," he said of drop-off area volunteers and sorters. "Everybody was in such high spirits."
That despite a line up of vehicles Wilken estimated to be as long as a kilometre waiting to drop off at The Gift's Richmond Street warehouse in Chatham.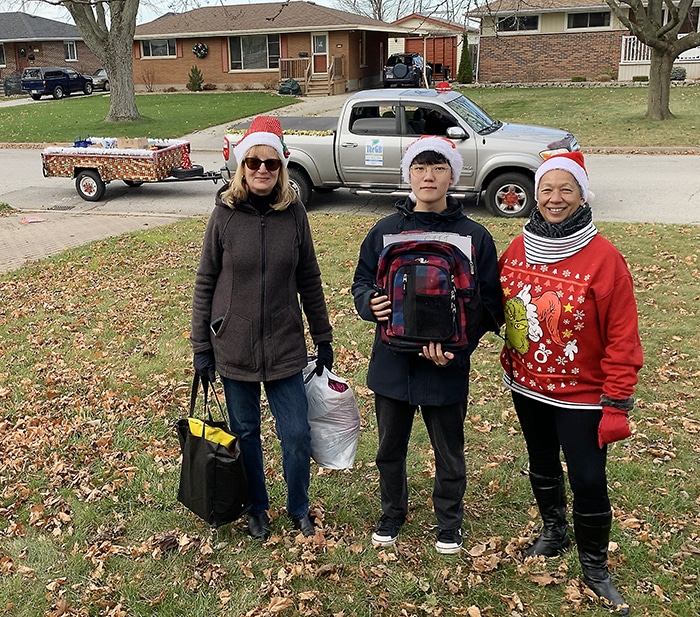 "It was running like a clock. There must have been 15 cars unloading at once. People were just working their asses off," Wilken said. "We planned for big, but it was just mindboggling."
Chatham Ballhawks coach Cory Lahey brought the whole girls' team to the sorting station on Richmond Street.
"It's a good teaching moment for the kids to give back to the community that always supports us for the volleyball season," he said.
The team showed up at 11:30 a.m. and stayed until the sorting ended. Volunteers were working hard as bins quickly ran out, leaving them no choice but to move the donations to the door by hand.
"It is quite an insane amount. Chatham is really doing a great job at giving back to people," Lahey said. "It's really nice to see that there's going to be families getting a Christmas that wouldn't normally get this kind of chance."
Ballhawks player Gaby Arbour, 16, said she volunteered for the May 16 Miracle as well, and felt that The Gift surpassed previous expectations.
"This is just incredible to see. I'm so grateful to be a part of this community and it's so beautiful to see how everyone comes together for this kind of day. This brings us closer together," she said.
Volunteer Cathy Staal, who collected from porches and doorsteps in north Chatham Saturday, said donations poured in. After perhaps 15 minutes of collecting, the trailer of the pickup truck supporting their collecting was nearly full.
Fellow volunteer Sue Cummings said the pickup team are a group of familiar faces.
"We were part of the May 16th Miracle. We were not going to miss this either," she said.
Staal agreed.
"We've been working on a project to help people in poverty for a while. A lot of this is going to people in need. A lot of good organizations will benefit from this," she said. "It's wonderful. It's exciting to be part of everybody giving."
Wilken said The Gift, like the May 16th Miracle, is not a registered charity.
"This is the Chatham-Kent people doing what Chatham-Kent needs," he said.
Not a registered charity. This is nothing. This is the Chatham-Kent people doing what Chatham-Kent needs.
With files from Jenna Cocullo